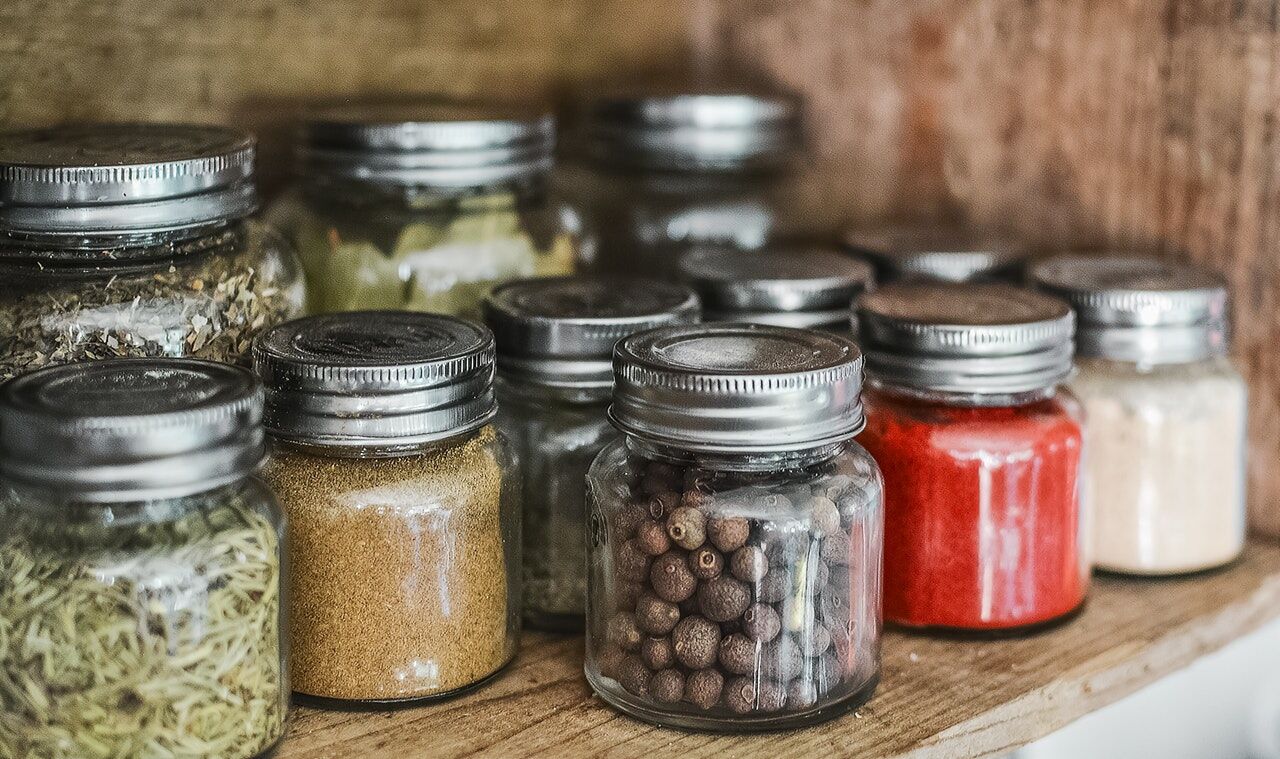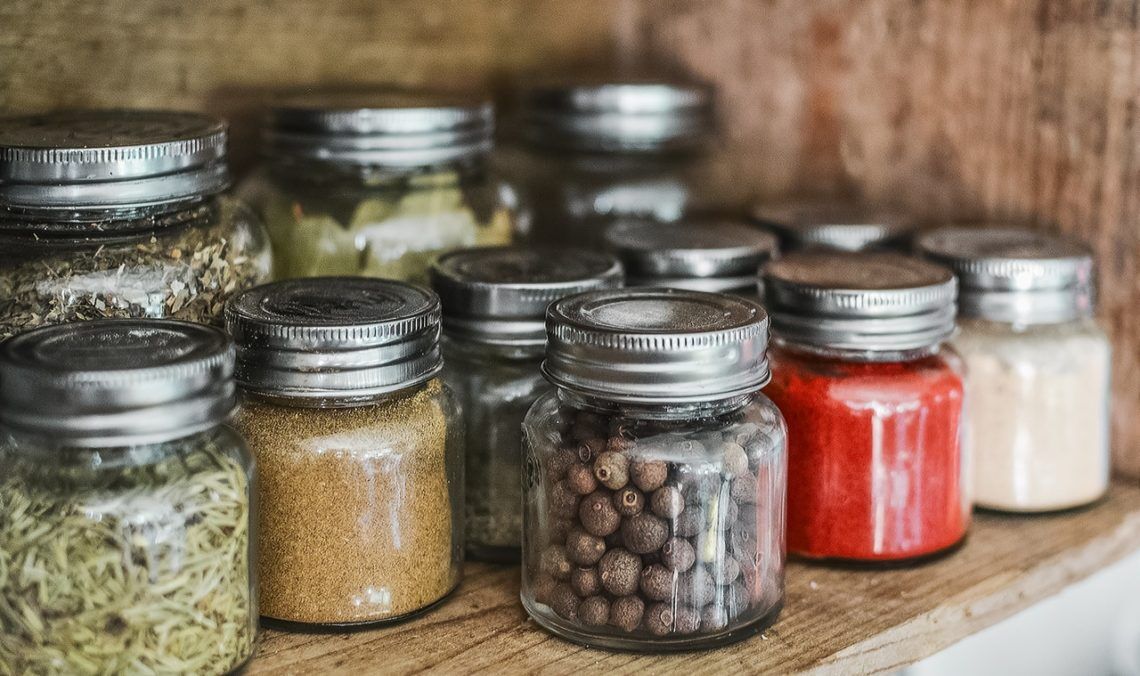 Holy Basil vs Ashwagandha – All You Need to Know, Tips, & More
This post may contain affiliate links. Read the full disclosure here
In today's world, everyone wants to be both physically and mentally healthy. But, with so many products available on the market, it can be hard to know which one to trust.
Holy Basil and Ashwagandha are two adaptogenic herbs used in Ayurvedic medicine. While both of them have exceptional health benefits, you might find one better suited for your needs than the other.
In this article, we will discuss the features, pros, and cons of Holy Basil and Ashwagandha.
| Features | Holy Basil | Ashwagandha |
| --- | --- | --- |
| Dosage | 300 mg to 500 mg per day | 500 mg to 600 mg per day |
| Shelf Life | Should be consumed within one year | Lasts for 2 to 3 years |
| Side Effects | No serious side effects | No serious side effects |
| Formulations | Powder, leaves, oil, capsules, etc. | Powder, pills, capsules, gummies, etc. |
Now that you know a brief comparison between Holy Basil vs Ashwagandha, let's discuss in detail their features to help you decide the best one for you.
Holy Basil – Best Herb to Boost the Immune System
To truly understand the health benefits of Holy Basil and the reason for its popularity, it's important to know its background and origin.
So, without further ado, here is everything you need to know to about the herb and its importance in Ayurveda medicine.
Note: If you want to know about Garden of Life Ashwagandha Reviews click HERE.
But first, what is Ayurveda?
Ayurveda is a traditional medical system that relies on the interconnectivity of the mind, body, spirit, and environment. It works to reduce worries, increase resistance to illness, purify the body, and decrease symptoms.
It achieves these effects through special diets, herbal medications, and internal purifications through yoga and massage.
This is where adaptogens like Holy Basil or Tulsi come in.
Holy Basil originated from India and is widely grown throughout the South East Asian region. Although the Holy Basil plant grows about 12-24 inches tall, the only edible parts are its pink flowers, stems, and leaves.
As you might have guessed from its name, it is an extremely respected plant in Ayurvedic medicine and the Indian culture. For Hindus, the Holy Basil represents the Divine Mother on Earth.
It also goes by the name queen of herbs, mother medicine of nature, or the incomparable one.
But, how does it work?
Well, according to research Holy Basil is made up of bioactive compounds, such as:
Eugenol or clove oil (to help lower blood glucose levels and treat digestive issues)
Ursolic acid (which gives it its antioxidant, antimicrobial, anti-inflammatory, antibacterial, and antifungal properties)
B-caryophyllene (which gives it its analgesic and antipyretic properties)
Linalool (insecticide)
1,8-Cineole (to help with cough, allergies, asthma relief, immune support, anti-inflammatory, and anti-leukemia cells)
Features of Holy Basil
Adaptogenic
Anti-inflammatory
Anti-diabetic
Anti-arthritic
Anti-coagulant
Anti-pyretic
Antidiarrheal
Antimicrobial
Antioxidant
Antitussive
Pros
Reduces the risk of cancer
Plays a part in reducing stress
Helps control blood sugar
Good for the nervous system
Has benefits against dizziness, cough, and migraines
Aids in weight loss
Cons
Excess can cause liver damage, nausea, and diarrhea
Overdose is possible
Benefits of Holy Basil
Now that you have general knowledge about the herb, let's talk about the many benefits Holy Basil has to offer.
In traditional Indian medicine, Holy Basil is said to increase beauty, intelligence, stamina, increase calmness, and aid longevity. However, recent researches show it has far more benefits.
The most important benefit Holy Basil has to offer is stress management (adaptogenic properties).
According to our research, regular consumption can lead to a 39% reduction in stress. It also reduces symptoms of forgetfulness, sexual difficulties, sleep difficulties, and tiredness.
It also improves cognitive function by increasing reaction time and reducing anxiety.
In a clinical study participants who took 300 mg of Holy Basil had a significant gain in their brain function, memory and cognitive function, cortisol levels, and reaction time.
There was also a decrease in physical stress and anxiety.
Furthermore, we recommend Holy Basil to anyone who has high blood sugar levels or diabetes.
A clinical trial found that subjects with type 2 diabetes who took Holy Basil and a blood sugar drug had better results than the blood sugar drug alone.
This is an extremely promising study that shows the Holy Basil can reduce blood sugar levels and post-prandial blood sugar by 10 gm/dl.
It is also a great cure if you suffer from inflammation and joint pain due to its antimicrobial and antioxidant properties.
Since Holy Basil is antimicrobial, there have been many studies conducted to treat stomach aches and common colds. What's more, is that you can also use it as a mouth wash to kill bad bacteria in your mouth.
In addition, it claims to stop cancer as it hinders the growth of cancerous cells.
Factors to Consider Before you Decide to Buy Holy Basil
Dosage
According to our research, a long-term dosage of Holy Basil is yet to be established. However, there are short-term doses you can take depending on your condition.
If you want to reduce anxiety and depression then we recommend a dose of 500 mg Holy Basil leaf extract twice a day.
For central nervous system disorders, a dose of 300 mg for 30 days will work best.
Whereas, a dose of 400 mg in the morning and 800 mg at night can decrease stress symptoms such as fatigue and sleep and memory problems.
Shelf Life
It's important to consider the shelf life when you purchase any Holy Basil products. This way you will ensure you are getting all the health benefits.
We suggest you consume Holy Basil within one year to reap most of its benefits and enjoy its taste.
If you bought the plant in dried form, don't forget to keep it in an air-tight container in a cool, dry, and dark place. Whereas, supplement pills should be stored according to the manufacturer's instructions.
Side Effects
For the most part, Tulsi or Holy Basil has no side effects or mild ones. Some people reported mild nausea that went away with continued use.
However, we severely urge you to avoid Holy Basil if you are pregnant or trying to conceive since it can cause contractions and impair fertility.
Holy Basil can also slow blood clotting. So, if you are about to go into surgery, we recommend you stop taking it 2 weeks before the surgery.
Formulation
You can find Holy Basil leaves for medicinal purposes such as Holy Basil tea or Holy Basil oil.
We also recommend you cook the leaves to get that spicy and bitter taste. According to the Ayurvedic medicine using the whole plant ensure you get all the bioactive chemical.
If you don't want to use leaves, you can also find Holy Basil in the form of pill supplements and extracts.
What Do the Customers Think?
To really understand the effectiveness of this adaptogenic herb, we searched the internet for its customer reviews.
A lot of users used it to relieve stress, anxiety, and adrenal support. While other people used it to lower blood sugar levels. They were extremely impressed by its quick results.
Holy Basil also helps deal with Tourette's Syndrome, high blood pressure, and other physical health problems.
Here are some of the reviews we came across:


Best Herb to Boost the Immune System
The best herb to boost the immune system is Holy Basil because of its adaptogenic and anti-inflammatory properties. Regular use can lead to a stress-free life, better sleep quality, and an overall healthy lifestyle.
Note: If you want to know Now Ashwagandha Review clicks HERE.
Ashwagandha – Best Ayurvedic Medicine for Stress Management
Similar to Holy Basil, Ashwagandha is also grown in India, Africa, and some parts of the Middle East. It is also known as Indian Ginseng, Winter Cherry, Poison Gooseberry, or Withania Somnifera.
Although Holy Basil and Ashwagandha hail from the same origin, they can't be more different. It lacks the flavor of clove and pepper that you get from Holy Basil. Instead, it has a bitter taste with a herbaceous and barnyard smell.
Regardless, it still holds immense importance in Ayurvedic practices. The herb is used for many health benefits including helping with sleep loss, stress, and rejuvenation.
Both roots and leaves of Ashwagandha hold great benefits. However, we recommend you go for Ashwagandha root extract since the purest Ashwagandha supplements are formed from the roots alone.
Features of Ashwagandha
Potent adaptogen
Anti-inflammatory
Helps reduce stress
Traditional medicine
Antidiarrheal
Antimicrobial
Antioxidant
Antitussive
Pros
Helps improve sleep quality and insomnia
Improves mental functions
Readily available
Increases athletic performance
Helps boost testosterone
Helps balance cortisol levels
Cons
Overbearing taste and smell
Many cause diarrhea or nausea
Not suitable for pregnant women
Benefits of Ashwagandha
Ashwagandha is best known for its ability to reduce stress. Therefore, we think it's a great natural way to improve mental health and general well-being.
It's also a worthwhile supplement for athletes as it works to increase energy levels and boost athletic performance. Researchers found individuals who took 600 mg of Ashwagandha had greater muscle gains than a placebo group.
Moreover, there were also studies that showed Ashwahandha to benefit male fertility and increase testosterone levels by 18%.
We also found that Ashwagandha may aid in killing cancerous cells thanks to a compound called withaferin. The same compound also helps to decrease inflammation and cholesterol.
Therefore, if you're someone who suffers from body pain and lack of energy, Ashwagandha is a great option to try.
In addition, taking Ashwagandha can greatly increase your cognitive function. It can benefit:
Executive functioning
Attention
Reaction tie
Performance on cognitive tests
Memory
Information processing speed
Ashwagandha is also a great natural way to lose weight. There have been many studies conducted that found Ashwagandha to aid in lowering blood glucose levels and triglycerides in the body.
So, if you want a safe and effective way to drop a few pounds, there are many Ashwagandha supplements and powders that you can try.
Lastly, we found studies that claim Ashwagandha can improve heart health. It can raise VO2 max levels which is the maximum quantity of oxygen you can inhale during any physical exercise.
These levels are used to measure how well your heart and lungs pump out oxygen and blood to the rest of the body during physical exertion also known as cardiorespiratory endurance.
Thus, a higher level of VO2 indicates a healthy heart that can withstand high-stress situations.
Factors to Consider Before you Decide to Buy Ashwagandha
Dosage
With adaptogenic herbs, there is no set dosage. The amount you take depends on what you're trying to achieve.
With that being said, the most effective dose to lower stress is 125 mg to 5 g. On the other hand, a dose of 250 mg or 12 ml should work best to lower inflammation and fight infections.
However, if you want to boost memory and other cognitive functions we suggest a dose of 500 mg to 600 mg of Ashwagandha root extract every day.
Shelf Life
Dried Ashwagandha herbs can last you 2 to 3 years. However, similar to Holy Basil we recommend you keep them in an air-tight container in a cool, dark, and dry place.
If you have Ashwagandha in capsule form, it's best you follow the instructions written on the bottle. In most cases, Ashwagandha supplements will last you 3 years.
Side Effects
Ashwagandha is considered safe for most people. However, overconsumption can lead to upset stomach, stomach ulcers, diarrhea, vomiting, and nausea.
Moreover, we do not recommend the herb to:
Pregnant women
Breastfeeding women
People with autoimmune diseases such as Lupus
People with rheumatoid arthritis
People with type 2 diabetes
People with Hashimoto's thyroiditis
This is because the herb may interact with the thyroid, blood sugar, and other medications.
Note: If you want to learn a complete guide about Ashwagandha click HERE.
Formulation
You can find Ashwagandha in a variety of formulations. Some people prefer one form over the other.
It is available in the form of
Capsules
Pills
Gummies
Powders
Elixirs
Leaves
What Do the Customers Think?
We searched the internet for Ashwagandha reviews to understand exactly what people were saying about the herb. Due to the health benefits and popularity of the herb, most people were satisfied with its results.
Since Ashwagandha is a strong anti-inflammatory, a lot of people used it to relieve joint pain. It was also a hit among people with clinical anxiety.
Here are some reviews we found: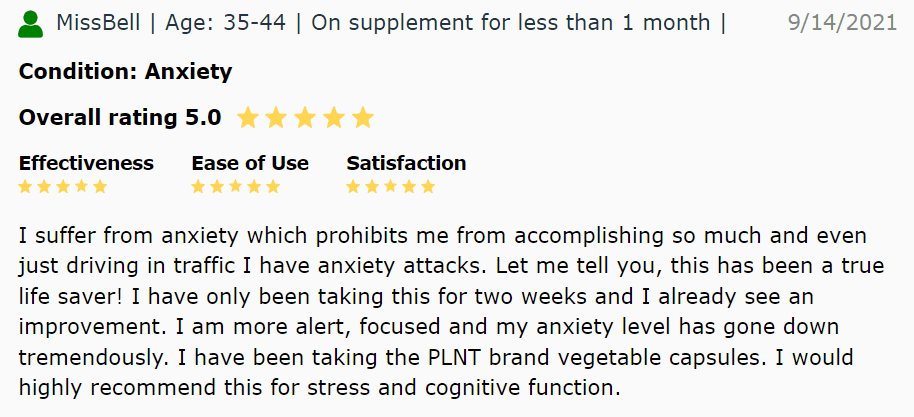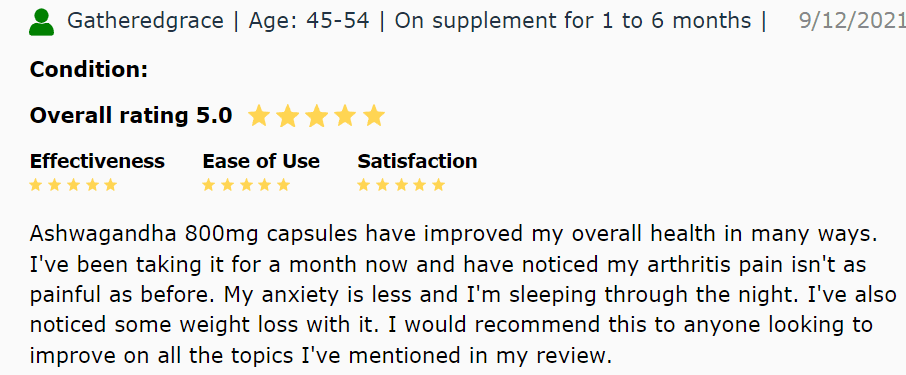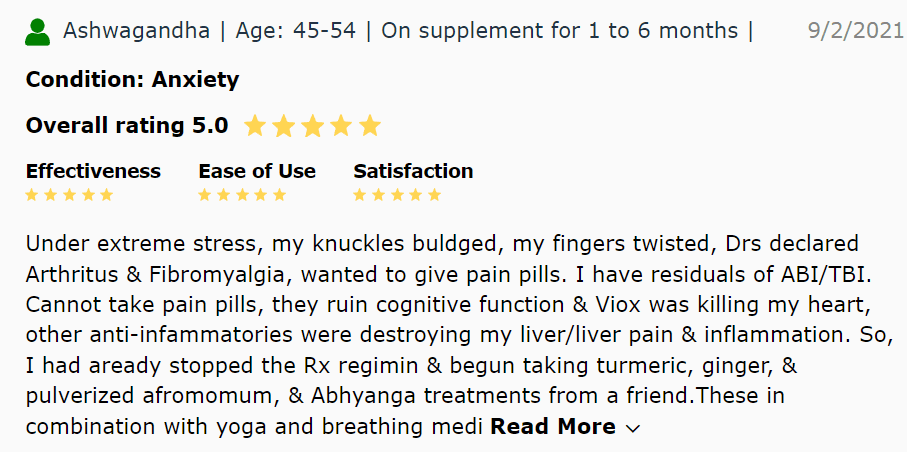 Best Ayurvedic Medicine for Stress Management
The best Ayurvedic medicine for stress management is Ashwagandha because of its adaptogenic properties. It helps improve mental health, sleep quality, high blood sugar, and more.
Holy Basil vs Ashwagandha – Buyers' Guide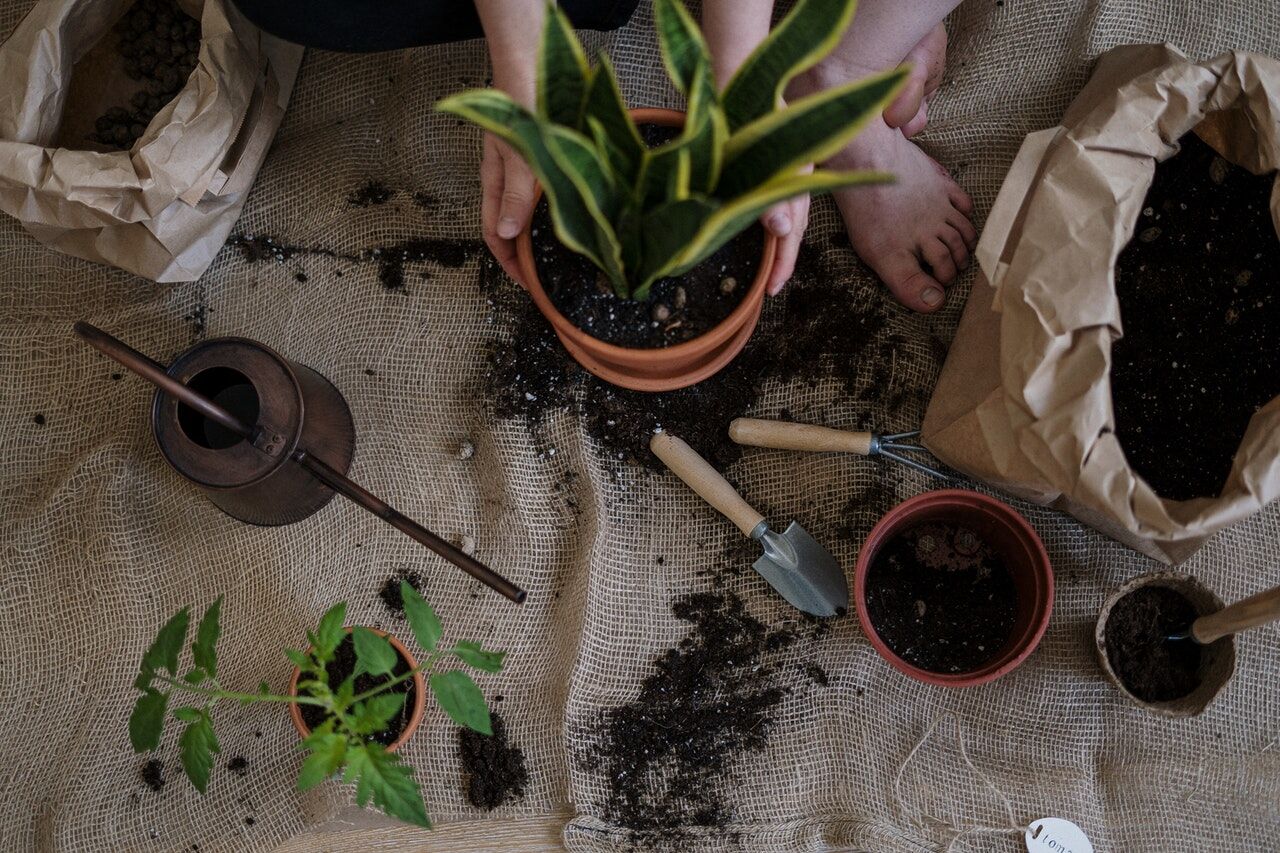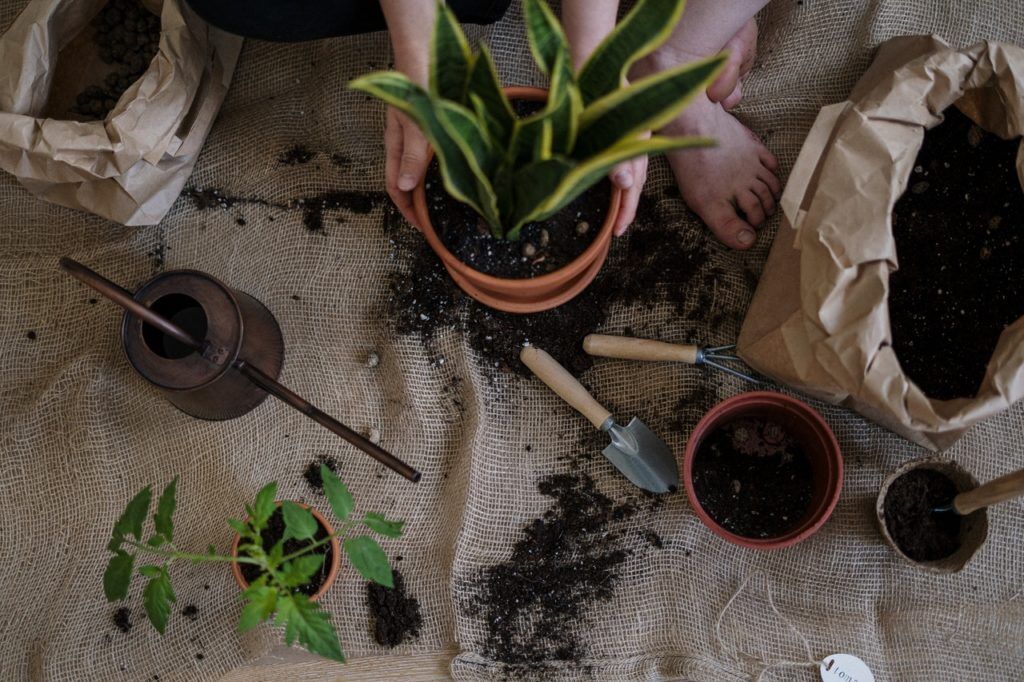 Both Holy Basil and Ashwagandha have similar adaptogenic benefits and properties. Therefore, it can be hard to choose the correct herbal supplement for you.
To make things easier for you, our team wrote a buyer's guide with some factors to consider before you make your decision.
Those factors are:
Dosage
Although both Holy Basil and Ashwagandha have natural origins, it's important to be careful of the dose you're taking. There are no universal doses for these herbs, therefore the amount you're taking should depend on your personal needs.
Most of the time, the recommended dosage will be written on the bottle. If it's not, we suggest you start with a smaller dose and gradually work yourself up to a larger one.
Shelf Life
Though this might seem trivial, shelf life is an important factor to consider. Within the shelf life, the product remains safe to consume and retains the desired sensory, physical, chemical, and microbiological characteristics.
We suggest you take time to understand the shelf life you the herb to assure the safety and quality of the product.
Note: If you want to know more information about Ashwagandha click HERE.
Side Effects
Different doses and types of herbs can have different reactions in individuals. This may result in undesirable side effects.
The best thing to do is to talk to your doctor before you add any new herb to your wellness routine.
This way you can make sure the herb doesn't interfere with any medications you're taking and find the ideal dose for the condition you want to treat.
Formulation
There are plenty of different forms of Ashwagandha and Holy Basil. They all might have the same effect but some people prefer one time over the other.
We recommend you go for the formulation you're most comfortable with.
For example, if you want an easier way to consume these herbs you can go for gummies or powders. Otherwise, capsules and pills are also a good choice.
Organic Certification
Whether you prefer to eat organic food or not, it's a good idea to look for organic certification for your herbal supplements.
This is especially important if you are buying from an unknown or generic brand. Organic certification means that your product is free from chemical fertilizers and pesticides that may absorb into the root from the surrounding soil.
Moreover, go for supplements with branded extracts and third-party certified facilities to assure quality and put your mind at ease.
Customer Reviews
It's wise to go through customer reviews before you purchase any new herbal supplement. We recommend you go through both bad and good reviews to make your final decision.
An important thing is that you purchase your product from the official website or accredited vendors. Buying from unofficial or unaccredited vendors may lead you to buy the wrong or fake product.
Sometimes, customers buy from these unofficial vendors and receive substandard products which lead to poor reviews and ratings of the actual company. To avoid this, always buy from an accredited store.
Price
Finally, consider the price of your herbal supplements. An expensive supplement does not mean it will deliver results.
It's also a good idea to check the quantity of the pills in each container as this will affect your out-of-pocket cost. We recommend you go with something that has 120 capsules so that's 60 days of herbal supplement to improve your health.
Similarly, look for a 60-day or more money-back guarantee. This way you will have plenty of time to try out and return it if the product doesn't suit you.
Final Verdict
This concludes our Holy Basil vs Ashwagandha comparison. Ashwagandha and Holy Basil have a long history of healing in Ayurvedic medicine.
While they both look, taste, and smell different, they are excellent adaptogens that can make your life a happier one.
Where Ashwagandha provides relaxation and nervous system support, Holy Basil can help with cognitive support and increased energy levels.
You can also take these herbs together with other beneficial tonics such as Rhodiola Rosea.
Have you taken any of these adaptogens before? Feel free to leave your experience in the comments below.
If you want to learn how you can take care of your body and mind click HERE.