Best Sensoril Ashwagandha Brand: 2020 Review
This post may contain affiliate links. Read the full disclosure here
I've been taking an Ashwagandha supplement for the last 14 months now and I'm loving it! I'm a bit more balanced and don't get quite as anxious in high-pressure situations. Focusing has also been easier since I started taking Ashwagandha but that might be a side-effect of not being as anxious.
Ashwagandha, also known as Indian Ginseng is a calming herb that can help bring your body back into the state of balance. Rather than hyping you up like caffeine or bringing you down like valium, Ashwagandha may help even you out, rather than over compensating one way or the other.
Ashwagandha has been an important part of Ayurveda tradition for thousands of years. Recently, it's been a plant of greater interest based on its wide range of potential health benefits. You'll find Ashwagandha in supplements, smoothies, and other food products.
What Is Sensoril Ashwagandha?
You can think of Sensoril Ashwagandha as a more potent version of the traditional Ashwagandha root powder. It's derived from a patented blend of roots and leaves of the Ashwagandha (Withania somnifera) plant.
A safe process pulls the beneficial properties of the herb, creating a high-concentration extract. In other words, 200mg of Sensoril Ashwagandha is much stronger than 200mg of standard Ashwagandha root powder. Some claim Sensoril Ashwagandha is 8 times stronger than ground root power.
Unlike other extracts such as KSM-66, Sensoril uses both the root and the leaves of the Withania somnifera plant in the extraction process. The manufacturer uses this method to increase efficacy and bioactive diversity.
The extract is developed by Natreon. Created in 1998, this company focuses on making scientifically studied and tested Ayurvedic ingredients available to consumers worldwide. That includes supplements, personal care, food & beverage, and medical food. You won't find supplements made by Natreon, but you will find supplements that use Sensoril Ashwagandha.
Best Sensoril Ashwagandha Brand
The key here is to find brands using Sensoril but also look at all other ingredients in the particular product.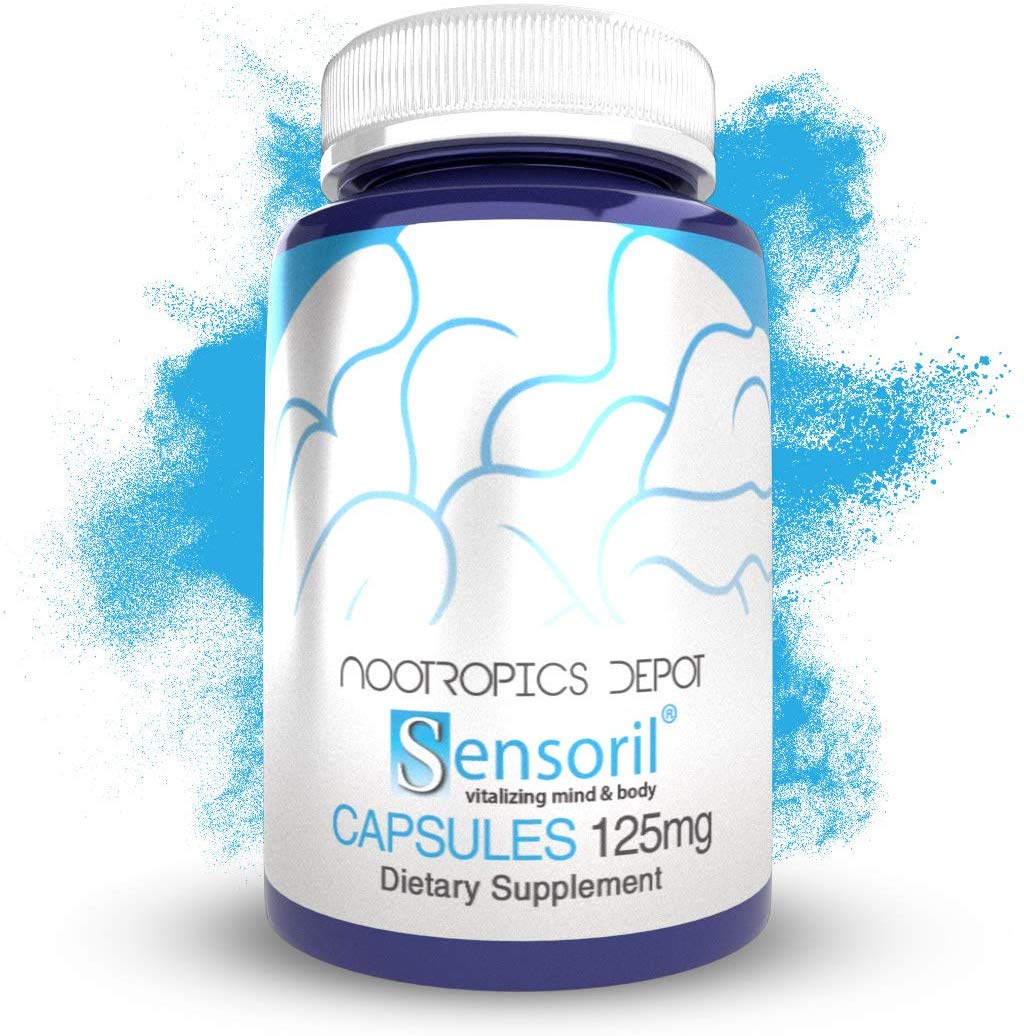 This is my personal favorite Sensoril Ashwagandha. You'll pay a few bucks more than some of the other options on the market but you'll end up with a product that gives you results.
I'm a little biased here since I've been a long-time lover of many of their products, but when it comes down to it, I know I can trust them.
All products are lab tested for purity
No unwanted or unnecessary ingredients
Positive Amazon reviews and ratings
125 mg Sensoril per Capsule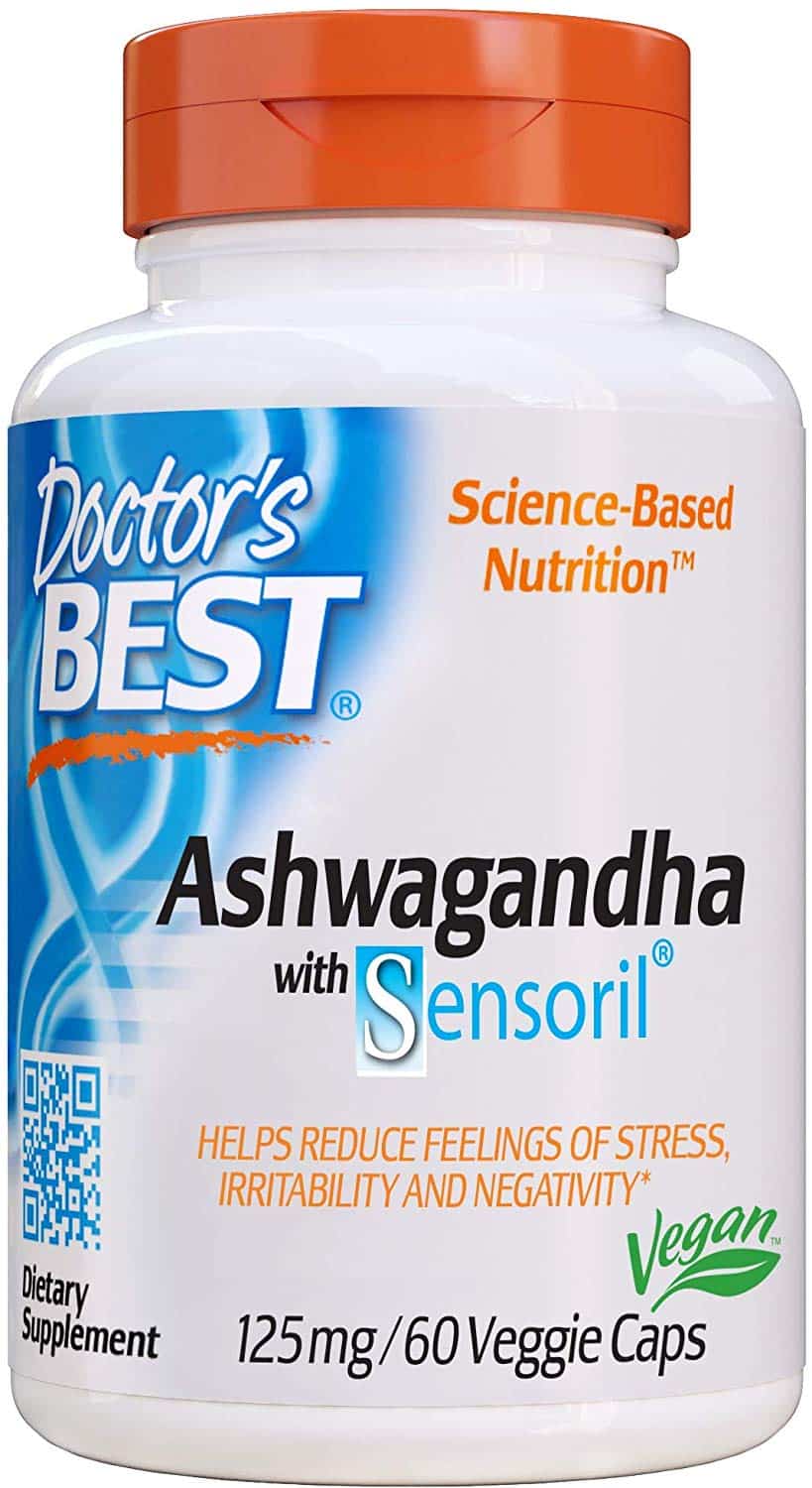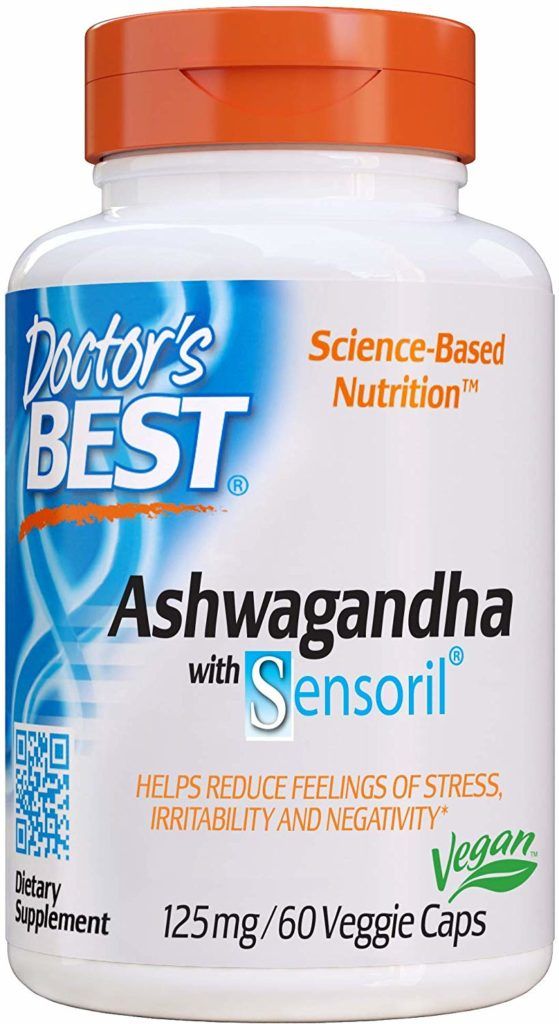 Doctor's Best is a reputable brand with high-quality affordable supplements. We're also huge fans of their Magnesium Glycinate Supplement.
This product gives you everything you want without any of the fluff.
Get 250 mg of Sensoril Ashwagandha per serving (2 capsules)
Vegan
Gluten-Free
Low -cost option for a high-quality product
Choosing the Best Brand
Finding the best Sensoril Ashwagandha brand is rather simple; just look at the label! Not all supplement brands disclose the source of their Ashwagandha extract, but many do. Whether it's a blend of herbs or just straight Ashwagandha, you need to understand (and want) all the ingredients in the product you decide to buy.
Once you get that piece covered, it comes down to finding a supplement manufacturer you trust. I personally tend to lean to brands that have been around at least a few years and have a loyal following. Also, make sure to thoroughly read Amazon reviews to make sure they appear to be written by a real person.
Technically Sensoril Ashwagandha from one brand is going to be the same as another, but you still need to trust the supplement manufacturer. For instance, are all the ingredients accurate? Are they using the amount of Sensoril that they claim on the bottle?
Is Sensoril Ashwagandha Legit?
Sensoril Ashwagandha is one of the best-known extracts on the market. It's been used in 12 clinical trials and is used by trusted supplement manufacturers. Not that you should take our word for it, but we have used and enjoyed using Sensoril Ashwagandha.
Been in 12 clinical studies
They use a patented leaf and root composition
Non-GMO
Organic and Vegetarian
Contains the highest level of bioactive on the market; ≥ 10% withanolide glycosides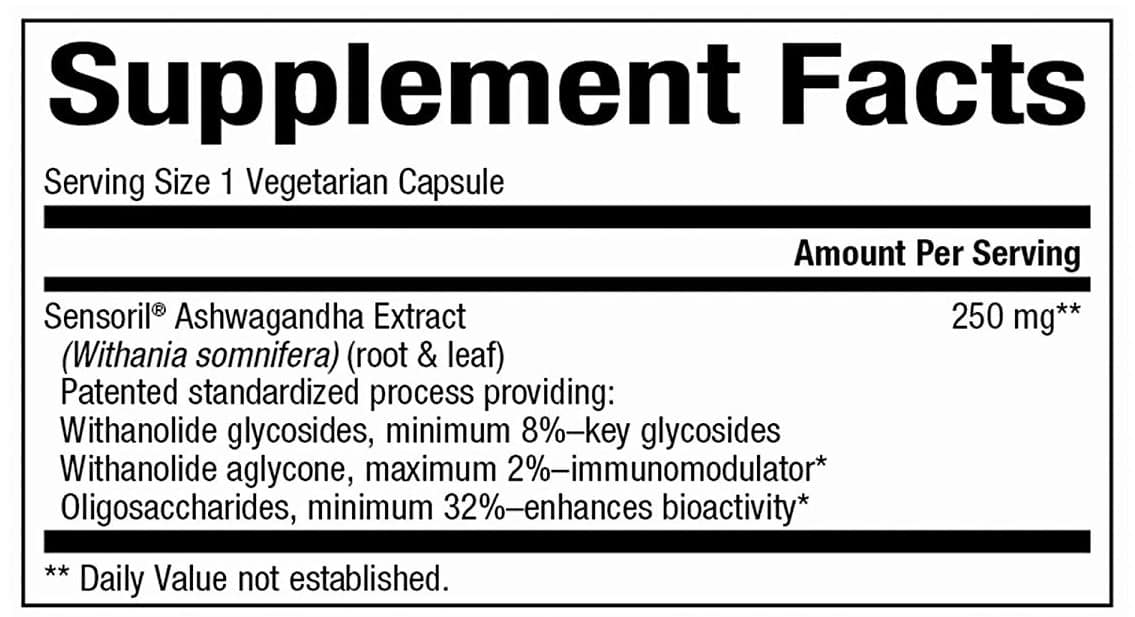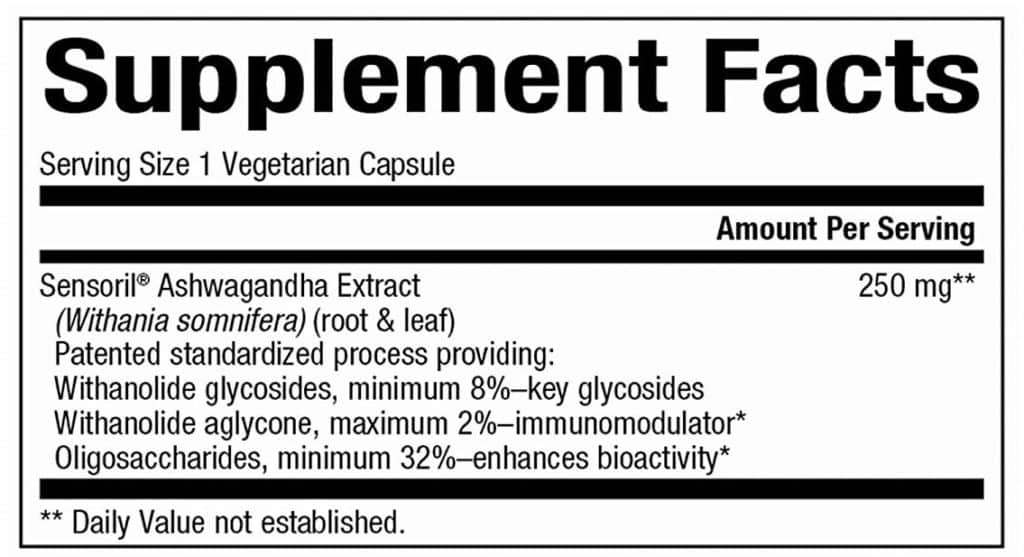 Another popular form of Ashwagandha extract is KSM-66. It uses a similar extraction process but only uses the roots (not the leaves). KSM-66 is our favorite (even over Sensoril), but many have differing opinions. You can read our full comparison of the two here.
Sensoril Ashwagandha Benefits
We first become interested in Ashwagandha for its ability to help neutralize stress and anxiety but quickly learned it does soo much more. Sensoril clinical trials suggest it may help reduce stress, increase energy, improve focus, improve sleep, and more. You'll notice that nearly all the popular studies showing the benefits of Ashwagandha use either KSM-66 or Sensoril Ashwagandha.
Sensoril health benefits:
Reduce stress and anxiety
Increase energy levels
Improve reaction time
Improve focus
Improve body strength
Improve sleep quality
Improves mental cognitive health
In Closing
Sensoril is a great form of Ashwagandha that may lead to many different health benefits. Whether you're looking to improve strength and endurance or increase focus and cognitive abilities, Sensoril might be worth a try.
As always, take precautions before trying any new supplement and consult with your healthcare professional if you're on any medications or have outstanding conditions.
Stay away from all Ashwagandha if you're pregnant or breast or nursing as it may increase risks. Some of the most commonly reported side effects of taking Ashwagandha include sleepiness or an upset stomach.