Quility Weighted Blanket Review
This post may contain affiliate links. Read the full disclosure here
Weighted blankets have been gaining popularity based on their reported health benefits related to sleep improvement. As the popularity grows, so do the product options, making it hard to determine the best weighted blanket option. That's where we come in!
We took an in-depth look at Quility premium weighted blankets to give you a sense of how they stack up to other popular weighted blankets.
Quility Weighted Blankets Review
We focused on Quility blankets since they are one of the most popular options available with thousands of positive reviews on Amazon and are a #1 best seller.
Quility Weighted Blanket Pros:
Multiple sizes and weights available (for kids and adults)
High quality materials and assembly
Offers a natural solution to many common concerns
Glass beads for weight as opposed to plastic
Satisfaction guaranteed
Has a removable cover
Designed to tip the scales at 10-12% of your body weight if you sleep alone, Quility weighted blankets come in a series of sizes to accommodate children and adults alike.
Boasting incredibly high reviews online, users reference the quality of both the blankets' materials and manufacturing, including the fact that the weight comes from glass beads rather than plastic like many other blankets. Quility seems quite confident in their own product as well, as they offer a no questions asked money back guarantee if buyers aren't satisfied with the blankets.
Perhaps the most important benefit of this blanket is that it gives consumers who have long struggled with sleep issues a sense of relief without them having to adopt a medication regimen that brings on concerns of eventual dependence.
Quility Weighted Blanket Cons:
Weight can feel unevenly distributed
Some customers find sizing runs small
Can cause overheating
Gives some users the sensation of being confined
Weighted blankets aren't for everyone, and some of the most common complaints about Quility's blankets evidence that general truth. Things like feeling uncomfortable because the blanket feels confining are issues that would arise with the use of any weighted blanket, but perhaps especially so with Quility blankets due to their sturdy construction.
Other prevalent issues include: the fact that the large sewn box pattern gives weighted beads room to move around within the boxes, so weight can shift unevenly within the blanket; the blankets' sizes reflect the exact size of a bed, so a weighted blanket labeled as queen size will fit precisely the surface of the mattress but no more; and perhaps most troubling, a number of people feel that they overheat while using the Quility weighted blanket.
Assessing these pros and cons together, it becomes clear that weighted blanket preference is a very personal one, so you won't know for sure whether a blanket is for you until you give it a shot. This is because what feels confining to one person may feel comforting to another, or what feels too hot to one person may feel perfectly cozy to another.
Some of this relates to the specific conditions from which people are looking for relief. A person who suffers from anxiety is more likely to enjoy the weight, while someone simply looking to wake up feeling more rested may find it oppressive.
Quility's satisfaction guarantee allows for the option of trying their blankets out and returning them for a refund if it's not a good fit, which truly tips the scales in favor of the pros column because it provides an out should any of the cons arise.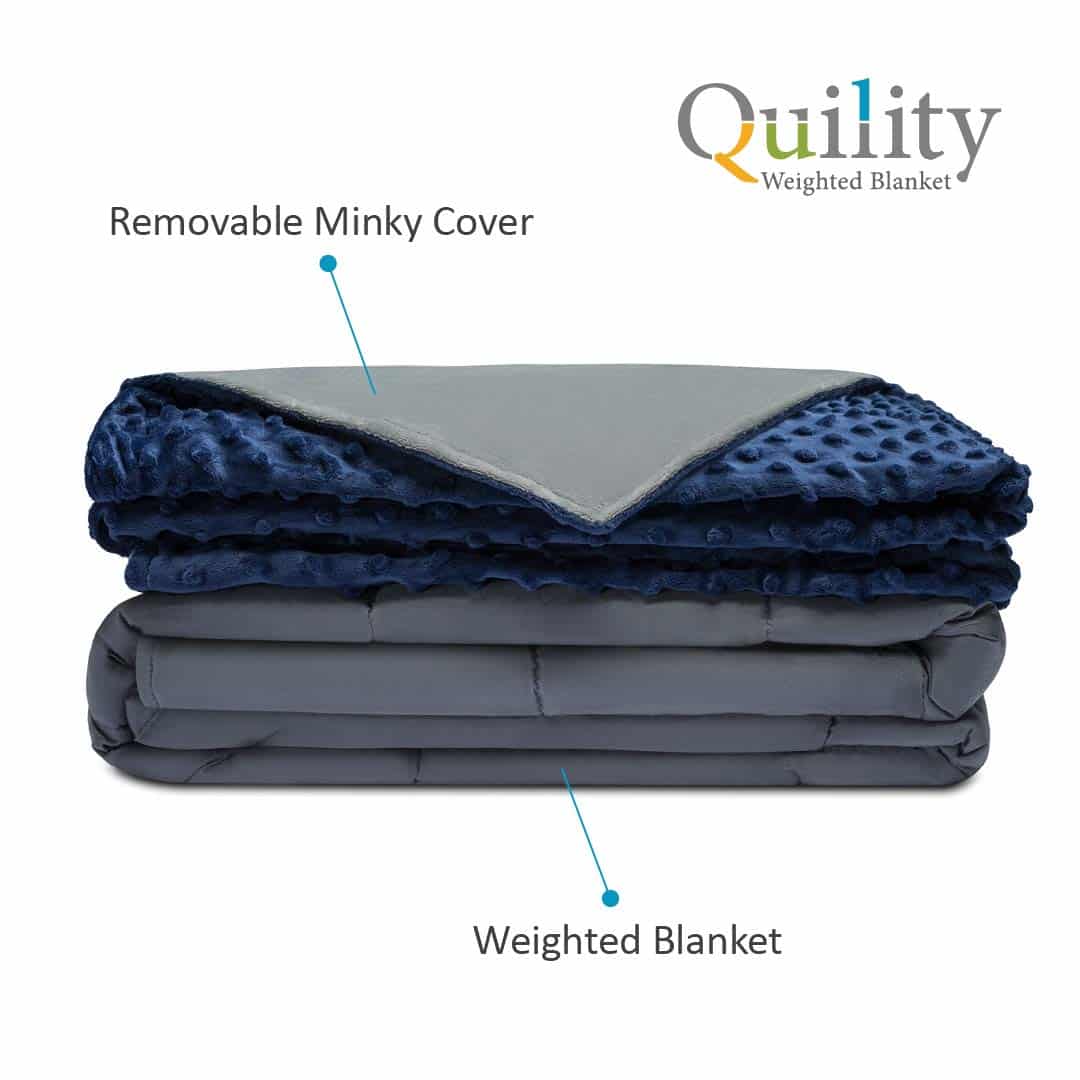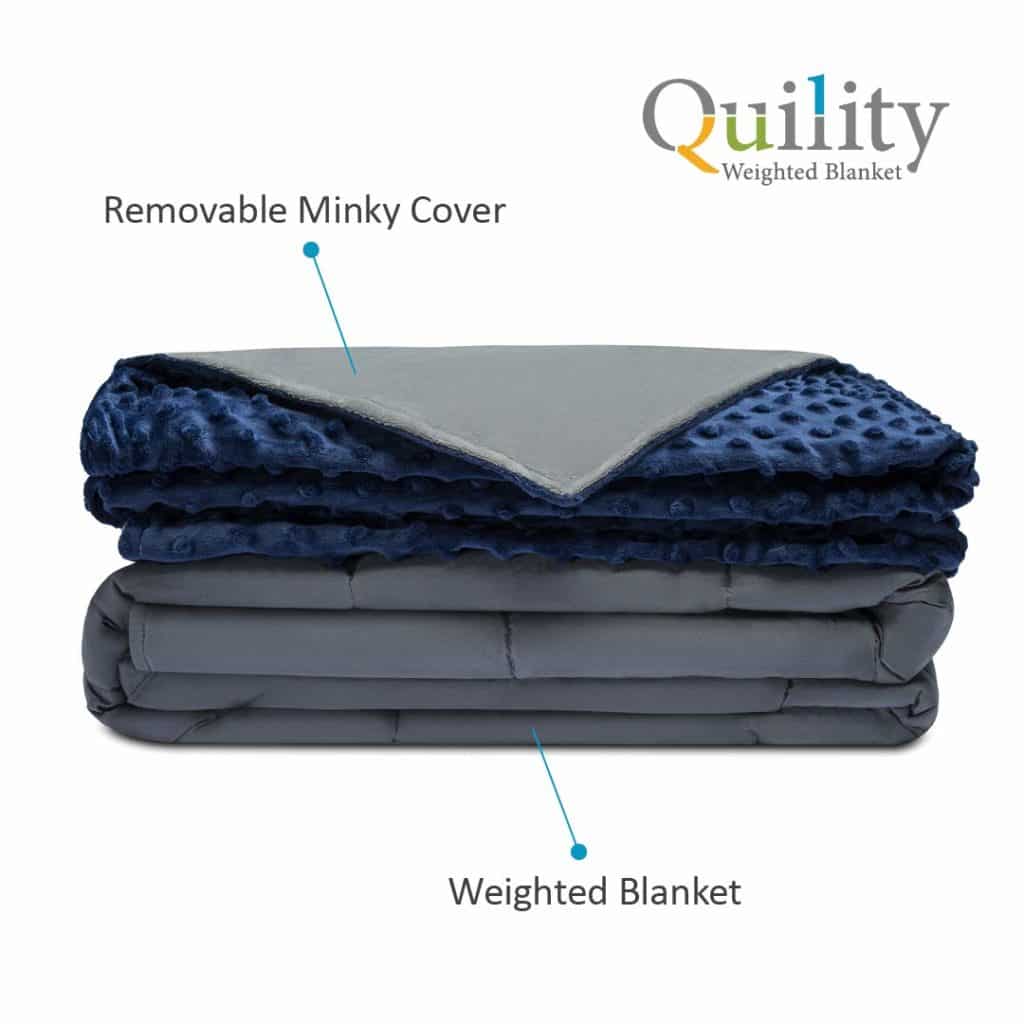 Quility Available Weights and Sizes
As mentioned above, Quility recommends purchasing a blanket that is somewhere around 10-12% of your body weight, and they have a multitude of sizing and weight options to allow for this.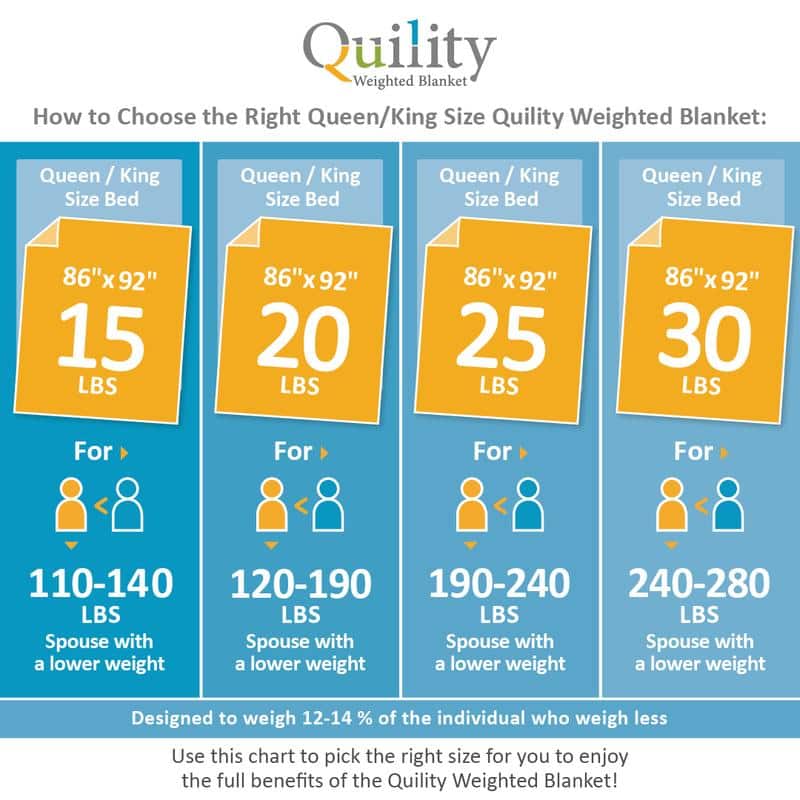 Sizes available are kids single, twin, full, and queen/king. For those who sleep with a spouse or partner, the blanket should weigh 12-14% of the smaller person. This means that if a couple weighs 130 and 190 pounds respectively, the blanket should be purchased at 20 lbs to accommodate the partner with the lower weight.
Because some of the blankets are designed for children, weights start very low at just 5 lbs and increase all the way to 30 lbs. Between the two ends are available weights of: 7, 10, 12, 15, 20, and 25 lbs. The very low weight option could allow parents to provide their children with relief from conditions they don't yet totally understand, giving their kids a transformed lifestyle without the use of medication.
In addition to a wide range of sizing options, Quility blankets come equipped with a removable cover when purchased as a set. These minky covers are quite soft to the touch, providing an added layer of comfort to the weighted blanket at any size. Because the covers are made specifically for Quility's blankets, they tie together nicely and the blanket does not shift inside the cover.
Quility Color Options
While the weighted blankets only come in two colors, grey and light grey, the Minky covers come in several colors, so you'll likely find an option you'll like.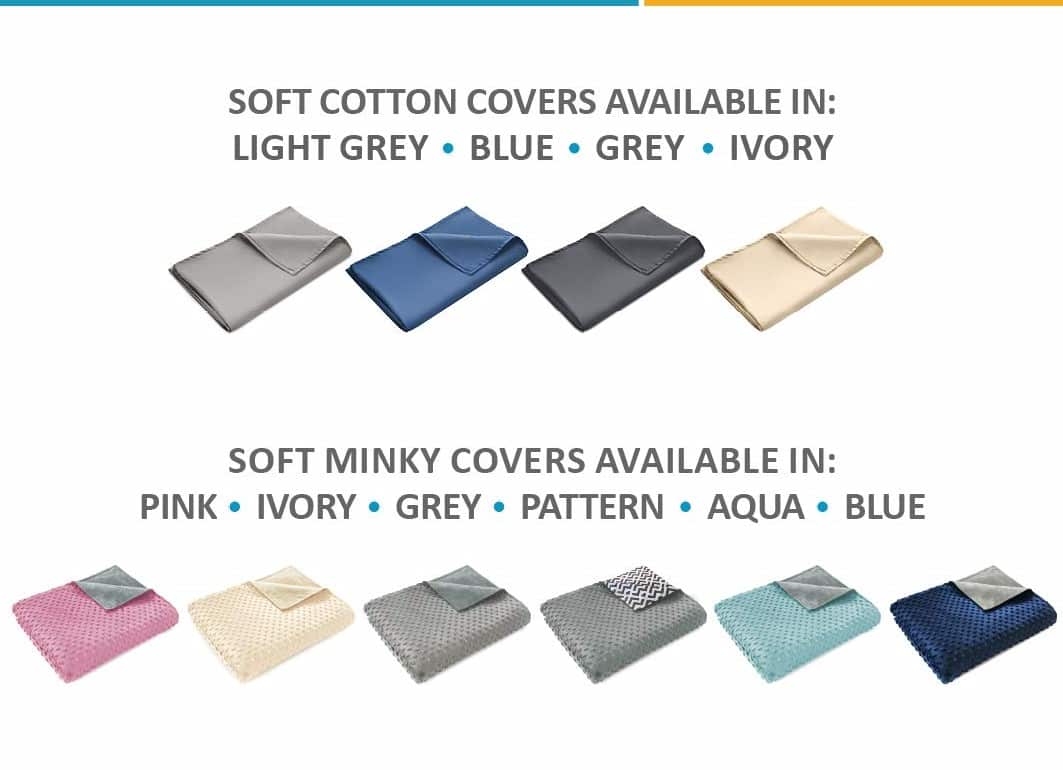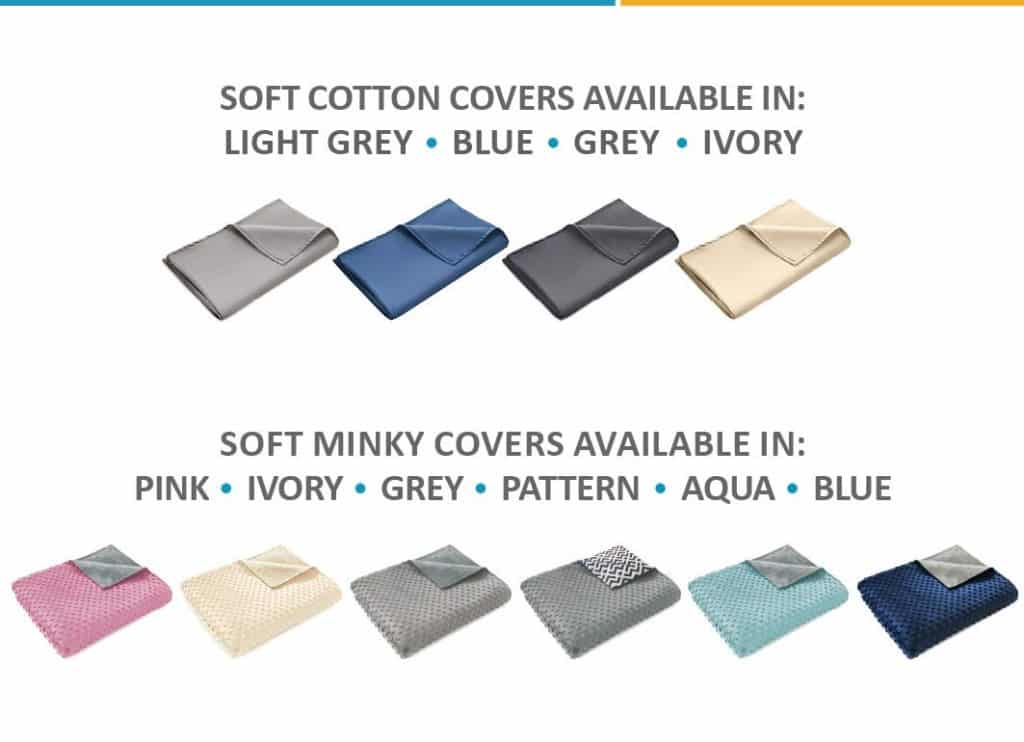 The soft cotton covers are available in:
And the Soft Minky covers are available in
Grey
Blue
Aqua
Patterns
Ivory
Pink
The Quility Brand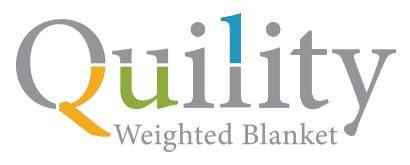 Quility is a decades-old US based company that began with the aim of minimizing the effects of PTSD, Anxiety, and stress on the sleep patterns of sufferers. The brand still upholds that mission, as well as their commitment to using the highest quality products possible.
Indeed, that commitment is self-evident in the product. Though some users have complained of weight shifting unevenly, it's important to note that Quility takes the time to utilize more advanced sewing technology than your run of the mill quilting or baffling, so this problem of uneven weight is much more prevalent in other blankets. What's more Quility is completely transparent about their manufacturing process and materials, so customers can feel confident that they're purchasing a quality product.
All of this speaks to the most prevalent characteristic of Quility as a brand, which is their commitment to customer service. Quility customer service genuinely aims to assert itself as a resource for customers; one of the most obvious ways they do this is with their satisfaction guarantee.
What Are the Benefits of a Weighted Blanket?
Weighted blankets can improve sleep for those struggling with anxiety, autism, insomnia, or Restless Leg Syndrome.
Anxiety Relief — Studies have shown a statistically significant relationship between anxiety reduction and sleeping with a weighted blanket. Better sleep leads to a calmer mind, which helps with feelings of anxiety throughout the day.
Therapy for Autism Disorders — Weighted blankets fall into a category called Sensory Integration Therapy which is a treatment explored for those with Autism Spectrum Disorders (ASD). The physical sensation of a weighted blanket can be grounding for those on the spectrum.
Insomnia Mitigation — Insomnia comes with a host of associated side effects. In short, when you're not sleeping properly, you brain doesn't function properly. Weighted blankets have been proven to help those with insomnia fall asleep faster and get a higher quality of sleep.
Eases RLS Symptoms — Many sufferers of Restless Leg Syndrome wear compression socks to ease their symptoms, but these can restrict blood flow to the point of discomfort. Weighted blankets offer the same sort of firm pressure without any of these same uncomfortable sensations, so those with RLS may be able to feel enough relief that they can fall asleep and stay asleep.
Weighted blankets also provide a series of benefits that aren't directly related to a condition or disorder. These benefits include things like improved mood, more energetic days, and an overarching sense of calm. Who doesn't want that?
This all stands to reason when you think about the way you feel after a great night's sleep versus a poor night's sleep.
Quantifiable data backs up many of the claimed advantages of weighted blankets.
Should I Buy It?
Choosing a weighted blanket is a lot like choosing any other personal item: it's all about individual preference. Beyond glaring issues like poor construction or misrepresentation, every weighted blanket will serve every person differently; what one customer would love, another may hate. For instance, if you're worried about weighted blankets making you hot, this might not be the best option.
For hot sleepers, consider the YnM Cooling weighted blanket. It offers the same benefits without the unwanted warmth.
Quility certainly does not put out an inferior product in their weighted blankets, so those glaring issues aren't relevant here. If you choose to give one a shot, you can be confident that it will be well-made, if a little smaller than expected.
The great part of taking the leap and giving this blanket a try is that should you find yourself overheat under it, or don't care for the weight of the glass beads, Quility customer service will be ready to assist you with a refund as part of their satisfaction guarantee.
The importance of getting a healthy amount of quality sleep can't be overstated. Particularly if you suffer from Anxiety, Insomnia, or something of the like, it may feel like you're in a constant fog due to lack of sleep.
We hope this review of the Quility weighted blanket has given you a clearer picture about whether it's for you, and that you find a way to receive quality rest soon.