Muse 2 – Brain Sensing Headband
This post may contain affiliate links. Read the full disclosure here
It's no secret that we live in the age where modern technology is the solution of almost every problem that we can think of.
One of the main issues people face today is finding a way to actually relax. Whether it's work, taking care of the kids, or family issues, stress is often a lingering issue.
Thankfully, there is a device that is designed to relax your mind and keep it at ease.
The Muse 2 headband is meditation made easy. Muse 2 is designed to help guide you through a calming meditation process so you are more relaxed and more focused after every session.
What Is the Muse 2?
Are you struggling to figure out how long you should meditate? What benefits are you trying to get out of it?
With so many questions and all the guesswork, meditation may seem like a hard thing to do.
Want to learn more about meditation? Learn how to get started with meditation.
The Muse 2 makes meditation easier. It's an EEG headband device that uses advance signal processing to get a good reading of your mental activity. It will help guide you through meditation using the sounds of weather.
Muse 2 has a sleeker, lower profile design compared to its predecessor. On the app, it has a new results screen and an easy to navigate dashboard.
With real-time feedback being very important, Muse now has expanded its ability to measure other elements in real time.
These include body movement, heart rate, breathing, and mental activity. The feedback will allow users to assess their total meditation practice and use the data to make adjustments if and when necessary.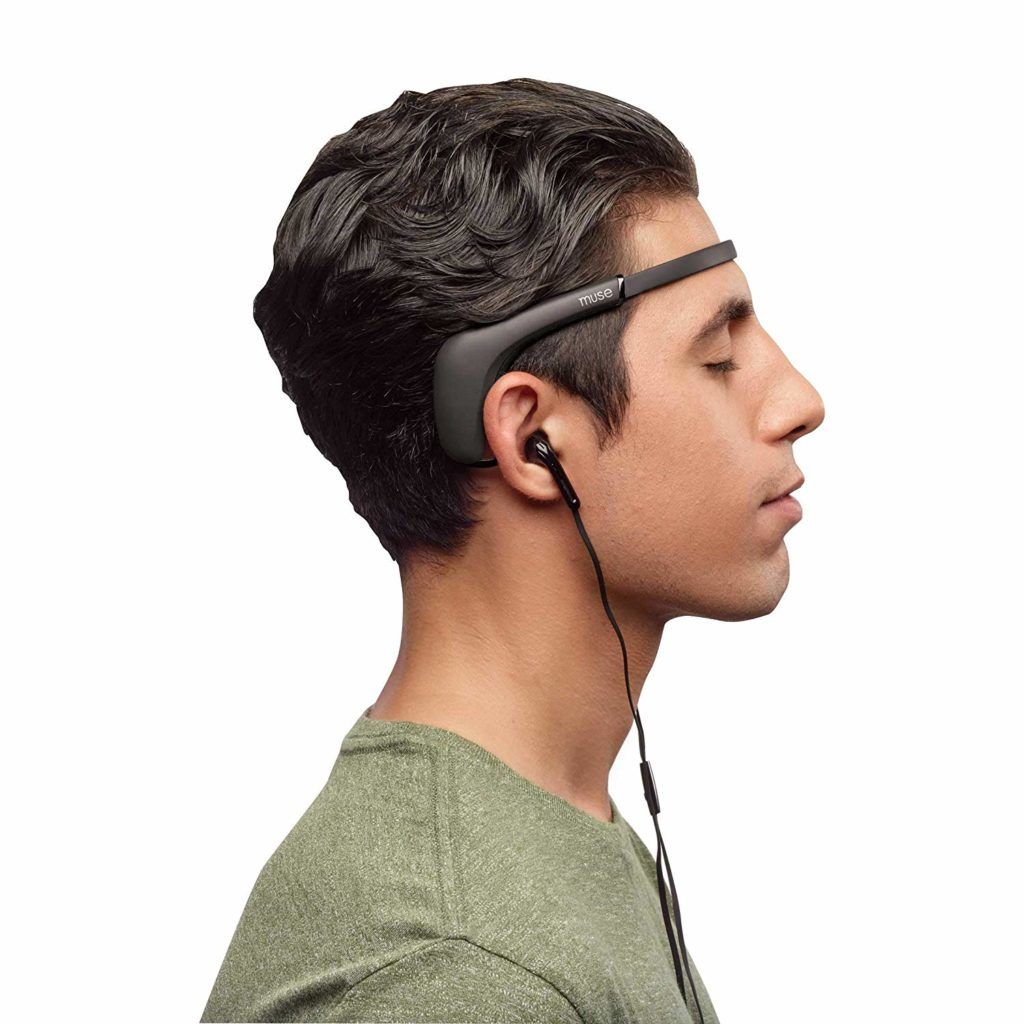 How It Works
As you put on the meditation device, it will get a reading of your brain's mental activity. As your mind is calm and settled, you will hear the sounds of comfortable weather.
However, if your mind strays the path, you will hear the sounds of stormy weather. At that point, it should serve as a reminder to get your mind and breath back on the right path.
Muse 2 works with your Android or iOS device and connects with it via bluetooth. As soon as you're connected, you'll be able to begin your meditation using the Muse App. Then all you have to do is connect your headphones into your device, close your eyes, and follow along.

After each complete session, you will be able to review your results using intuitive charts. The data you gather will also help you improve your overall progress.
The Muse 2 has 7 sensors placed throughout the band: 2 on the forehead, 2 behind the ears, and 3 reference sensors. All 7 work together to detect and measure the activity of your brain.

What Does It Measure?
One of the major things that a Muse 2 headband measures is your brain's wave activity. What the device does is detect a range of your brain's electrical activity and translate it into an easy to understand experience. The Muse 2 communicates with the Muse app to help transform measured brain waves into several elements. These elements include: noise, oscillations, non-periodic characteristic, and transient and event-related brain activity.
Muse 2 will also be able to determine how focused you are throughout the entire session. It will also measure how much your focus level has changed. Based on the data compiled, it will determine if your focus is active, neutral, or calm. Active is defined as wandering attention. This is measured at times when the mind is wandering around. Neutral means that while your attention isn't wandering, there is no deep focus involved. Calm is defined as having deep, restful focus where you are fully zoned in on your breath.
During each session, you'll earn points. On top of that, the Muse app will give you challenges and goals to ensure that you are improving your overall progress. And because your overall progress is yours and yours alone, your data will be safely and securely stored. No one but you will know your exact readings and progress.
How Can I Charge My Muse 2?
Checking the battery and charging your Muse 2 are both simple. To check the battery life on your Muse 2, just simply hit the power button twice. Your Muse 2 can easily be charged using a USB port. Just plug the charger into your device and into a USB port on your computer or a wall charger. It should be noted that some iPhone chargers or Mac computers may not be able to charge your Muse 2 properly. A Muse 2 device will take no more than 3 hours to charge. A fully charged battery will allow 5 hours of continuous use.
Pros and Cons
While the Muse 2 is an excellent device to have for the best guided meditation sessions, it does come with its set of pros and cons. The following is a list of common pros and cons for the Muse 2:
Pros
Easy to understand data: Because Muse 2 has the ability to measure data in terms of your brain activity and even your heart and breath rate, it will collect the data and make it easy to read and understand. No scientific jargon needed. Users can utilize the data to make any changes to their sessions and overall progress.
Easy to choose a session: Muse 2 users have their own personal goals that they want to achieve with a meditation session. It can be for more mindfulness, stillness, or whatever your goal can be. Muse 2 will help take the guesswork out of all of that.
Cons:
May not work with all chargers: As stated, some Mac models and even iPhone charging cords may or may not work with the Muse 2. This means having to resort to a universal wall charger, which are inexpensive and can be found in most electronic stores.
Takeaway
Muse 2 is the best choice for a meditation device to give you the best guided meditation sessions each time you use it.
If you want to meditate daily, but seem to have a hard time figuring out when to do it and how, the Muse 2 will make your goal towards calmness and mindfulness a lot easier.