Do Weighted Blankets Make You Hot?
This post may contain affiliate links. Read the full disclosure here
So you want to enjoy the benefits of a weighted blanket, but you're worried it will make you too hot. Do all weighted blankets make you hot?
While weighted blankets are heavier than normal comforters, it doesn't mean they are too hot. These blankets can even be a good option in warmer weather or if you are more prone to to overheating.
We did extensive research into weighted blankets, as well as bought a couple of the top rated products for hands on testing. As part of the research, we also went through the reviews of each product to see what other buyers' experiences have been. In total, 17 hours were spend testing and researching to find the best product for your needs.
Will Your Weighted Blanket Make You Sweat?
In hot or humid climates might make you sweat, but this will likely be true for any bedspread or blanket. However, if you don't normally sweat throughout the night, you should be fine.
Of course, sleeping with any blanket over your body will keep you warmer than without a blanket at all. But weighted blankets aren't always warmer than traditional blankets. You can enjoy the sense of security without extra warmth.
Here are some tips to help keep you cool while you sleep:
Take a cool shower before bed to lower your body temperature
wear light clothing or none (wink, wink)
Turn on a fan or A/C if that's an option
Turn off any heat producing appliances
Limit caffeine and alcohol consumption
Drink a cold glass of water before bed
It's a common misconception to think that since the blankets are heavier, they must also be warmer.
Most weighted blankets use plastic or glass beads to provide extra weight. The fabric and the construction play a big part in how hot the blanket will be.
Luckily, there are some great weighted blanket options for hot sleepers. Let's take a deeper look at the things to consider when searching for a cooler weighted blanket.
Pay Attention to the Fabric of the Weighted Blanket
The construction and the fabric of the blanket will play a large factor in it's warmth. Also, most weighted blankets offer a removable, washable cover.
So you'll want to look at the fabric of the cover and the weighted blanket itself.
Many weighted blankets use synthetic materials such as minky or fleece, which don't breathe as well. It's generally a good idea to stay away from these fabric options if you're worried about overheating.
Flannel is another common fabric used in weighted blankets, which can hold in heat. These blankets are great options during the colder months. But they may be too hot in warmer months, or for those struggling with night-sweats or hot flashes.
What Blankets are Best for Warmer Sleepers?
Degrees of Comfort Weighted Blanket
The Degrees of Comfort Weighted blanket comes with two different covers, one for warmer temperatures, and one for cooler. This is one of the more popular all-seasons weighted blankets. The first weighted blanket cover uses flannel, so it's nice and cozy for colder nights. But the other cover is made with their CoolMax Microfiber technology, which allows for greater ventilation. This provides a cool, comfortable experience on warmer nights.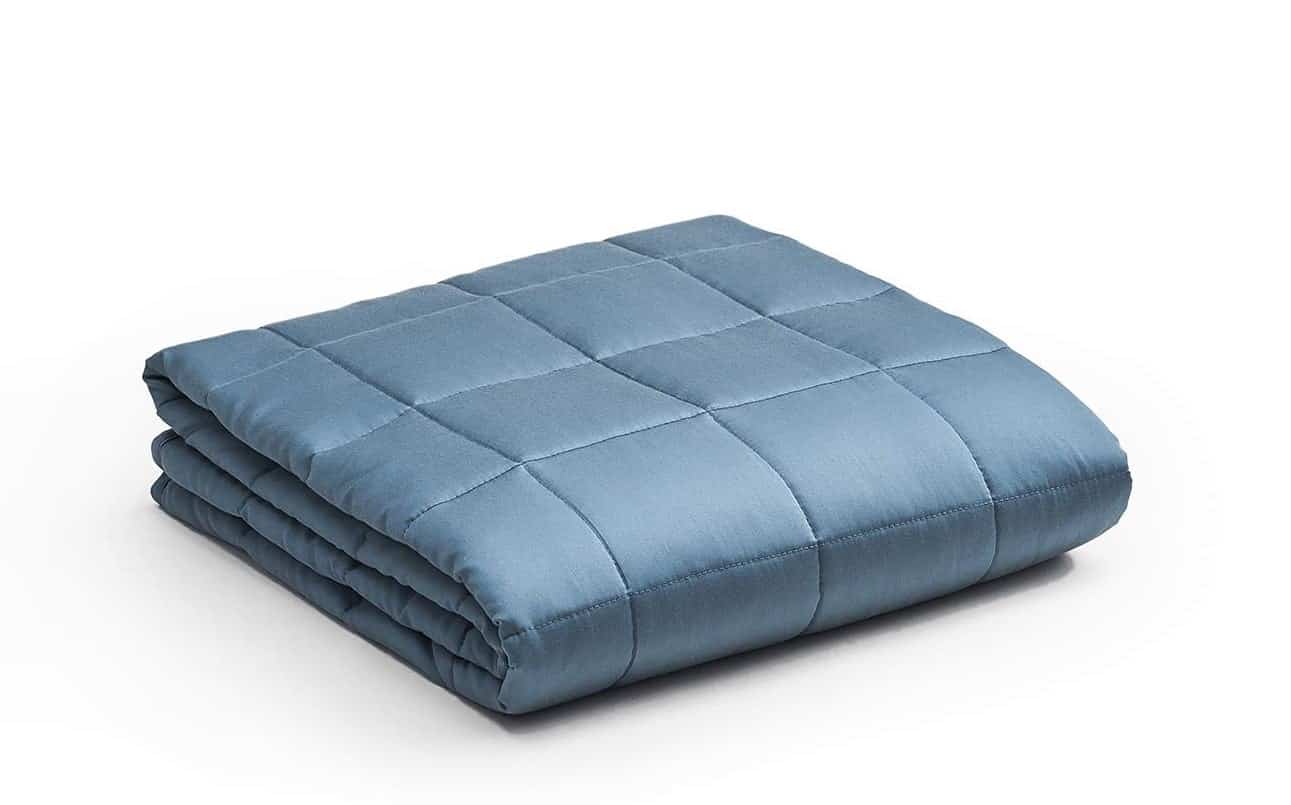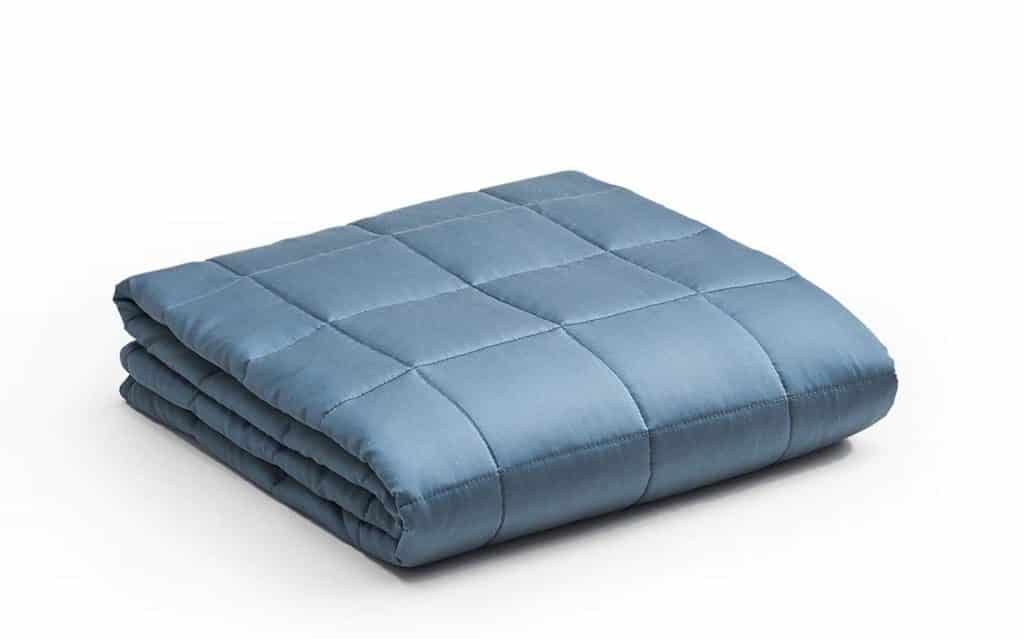 YnM Cooling Weighted Blanket
Another great weighted blanket for hot sleepers is the YnM Cooling weighted blanket. The blanket design is for hot, sweaty sleepers. It uses breathable, moisture-wicking bamboo fabric to keep you cool and comfortable throughout the night. This blanket claims to keep you 1-3 degrees cooler than ordinary cotton-based blankets.
This is our favorite choice for a weighted blanket that won't make you too hot. It's offered at an affordable price point with hundreds of positive reviews on Amazon. Read our full YnM Cooling Blanket review here.
Here are a few customer reviews the YnM website backing up its Cooling weighted blanket option:
Amazing Blanket
What an amazing blanket. Soft, comfortable and the right size for me. It arrived quickly and packaged very well. It did help me to sleep through the night and my body never felt over-heated.

Wende
Cooling and Comfortable
I did very careful research before buying this blanket, and I have to say I love it. The cooling factor really does make a difference and the weight has helped me sleep better. The glass beads also does shift around so weight stays evenly distributed. I highly recommended this product!

Leena
Great first weighted blanket!
I've always wanted to try one as someone who suffers from mild anxiety here and there and also has trouble falling asleep at night. Love it so far! Really comfortable and nowhere near as thick as I thought it would be.

Taryn
So as you can see, plenty of customers (who are hot sleepers) love this particular blanket. This product feels like the option that gives you the best of both sides.
Do weighted blankets keep you warm?
While you may not feel hot while sleeping under the blanket, the truth is that a weighted blanket will keep you warmer than a regular blanket. That's because the weight of the blanket will hold in your body heat. Some blankets are heavier than others. Naturally, a heavier blanket will feel warmer. From personal experience on a cold night, I had to double up on another blanket because my weighted blanket wasn't keeping me warm.
Thicker and larger blankets provide more coverage and are more comfortable than lighter weighted blankets. But you may find that a heavier blanket is too hot for you. So, choose a blanket that feels right for you and your needs.
A cooling weighted blanket may even help you sleep better in warm weather. These blankets have been found to regulate temperature better, providing a very welcome sense of coolness and comfort to people who are prone to overheating.
Takeaways
Weighted blankets can be a great way to feel relaxed and secure while you sleep, whether you struggle with anxiety, insomnia, or ADHD.
And don't write off these blankets just yet if you're worried about getting hot and sweaty during the summer.
You don't need to sacrifice your comfort for pressure! It just comes down to finding the best product for your needs. You shouldn't have to be kicking off the blanket in the middle of the night, or pay a fortune on your A/C bill to enjoy a cool comfortable sleep.
Opt for a weighted blanket constructed with the right materials. Like the clothes you wear, choose a weighted blanket that uses a breathable, moisture-wicking fabric.
No need to wake up hot and sweaty! Happy sleeping.