Best Scented Candles for Meditation: 2020 Review
This post may contain affiliate links. Read the full disclosure here
Candles and meditation go together like peanut butter and jelly. You can enhance your meditation experience with candles, especially when they are scented. And don't worry, we aren't going to talk about peanut butter and grape jelly scented candles here.
Using meditation candles is a great way to set the mood and help you relax. It can be great for focus too! This technique has been used by avid meditators for hundreds of years and some even use candles as the focal point of their meditation.
Staring at flickering flame can be hypnotic and calming. Think about the last time you sat around a campfire staring into the fire. Add a soothing aroma such as lavender or jasmine to the mix and you'll set up the ultimate meditation experience!
We did extensive research into using candles for meditation, as well as have bought several of the top products for hands on testing. As part of the research, we also went through the reviews and pricing on amazon to find the best product for your needs.
Best Candles for Meditation
The Best Meditation Candles
Enhance your meditation practice with the perfect fragrance. Candles with scents such as Jasmine, Ylang Ylang, Lavender, and Chamomile can create a soothing and grounding experience.
We took a hard look at hundreds of candles to find the best options based on their scent, quality, and aesthetics (for those that want it to look good too).
This La Joile lovely candle provides a fusion of fragrances with soothing notes of ylang-ylang, jasmine, chamomile, and musk. It uses a potent concentration of ylang-ylang plant extract (main active ingredient) making it the perfect choice for relaxing aromatherapy.
It's a 10 oz. candle that will burn for 60-80 hours of relaxing meditation. You'll love the reflective rose gold pot. It has an elegant look that can be put out on display. You won't need to hide this one in a cabinet when it's not in use.
Ingredients: This candle is 100% Soy Wax (paraben-free) with a 100% lead-free cotton wick
Scents: Ylang-Ylang, jasmine, chamomile, and musk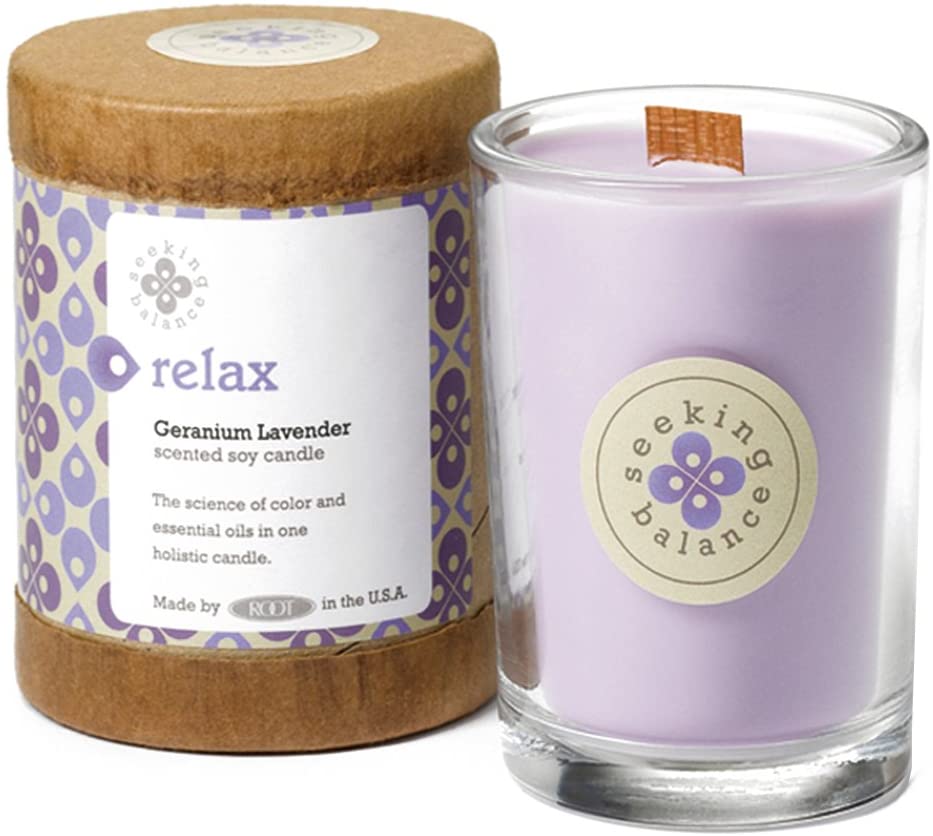 This meditation candle blends lavender and the geranium bud combine to provide an atmosphere of comfort, calm and relaxation. It's the perfect candle to use for a meditation practice that focuses on opening the mind and centering thoughts.
You'll find this candle is available in different sizes, so you can buy the larger size to save a little money. The 6.5 oz size is expected to burn for up to 65 hours. It uses a sustainable wooden wick that crackles when burning. Most find this comforting, but some can find it distracting.
Root is based out of Medina, Ohio where they handcraft each beeswax candle. The beeswax makes for a longer, cleaner burn but this won't be a good choice for anyone living a vegan lifestyle.
Scents: Lavender, Geranium
Ingredients: All-natural beeswax blend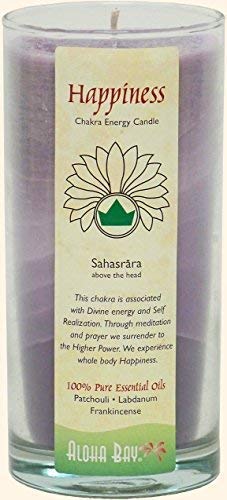 This aroma packed candle blends frankincense, patchouli, and labdanum for a delightful, positive meditation experience. Its chakra (Sahasrar) is associated with Divine Energy and Self Realization.
The Happiness Chakra candle is 11oz made from palm wax and 100% pure essential oils. The palm wax comes from sustainable, certified sources without any chemical additives.
Aloha Bay candles are unsuspecting by the look of them. All their candles come in the same naked jar without labels. They put their energy where it matters most, on the quality and purity of the ingredients, not the packaging or labeling.
Scents: Patchouli, labdanum, frankincense
Ingredients: Palm wax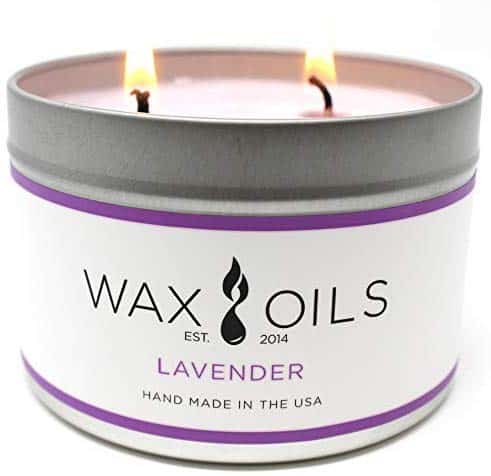 Enjoy the soothing floral fragrance of the Wax & Oils lavender candle. Light this candle to let the tension melt away and put the relaxation in full gear.
This is the perfect candle to pair with a meditation practice focusing on relaxation, decreasing stress, or reducing anxiety. It also makes for a great before bed experience to improve sleep. Just remember to blow out the candle before you fall asleep!
Wax & Oils candles are made in the U.S and are hand poured with high-quality wax and oils. Their candles are free from parabens, harmful chemicals, additives, petroleum. On top of that, their packaging is 100% recyclable!
Scents – Lavender with subtle hints of cedarwood and patchouli.
Ingredients: Soy wax with a cotton wick
Awaken and energize your senses with this Chesapeake Bay candle. Work on confidence, focus, and creativity with this candle.
This candle comes in a frosted glass with a wood grain lid for the full-on spa-like experience.
Chesapeake Bay has been making candles since 1994, and they're well known for making stylish, affordable candles with nature-inspired fragrances. This candle is from their mind & body collection, which focuses on the pleasures of fragrances to promote wellness for the body and mind.
The medium size candle is 8.8 oz with 50 hours of estimated burn time.
Scents – Eucalyptus, lemongrass, mint, and lavender
Ingredients: Natural soy wax blend
I'll be candid here, you don't need to buy any of these candles on this list to have a great meditation experience. Chances are that you have some type of candle to start your practice with, in your home today.
But these are a fun way to enhance the experience. If you're having trouble finding the right position or getting comfortable, you also might enjoy sitting on a meditation bench.
Candle Ingredients
Before purchasing any candle, take a moment to look at the ingredients. The candle wax, wick, and fragrances may contain chemicals or additives that can lead to health impacts.
It's often the cheapest candles that you have to worry about but sometimes you find nasty additives in the higher-end brands too.
In the following section, you'll learn about some of the considerations for the different candle wax types.
Paraffin Wax
We didn't include any candles that use paraffin wax on our list. There are some "okay" paraffin candles out there, but this type of wax comes with some considerations.
Paraffin wax comes from the oil purification process. This type of wax has been under pressure since a 2009 study found that paraffin wax candles release toxic fumes when burnt. The same research found that Soy Wax candles did not release the same toxic chemicals.
Candles made from paraffin wax release soot when they burn which can stain walls, get in your linens, and be toxic to breathe.
Paraffin wax considerations:
May release toxins when burnt
Not renewable or sustainable
Cheapest to produce
Soot may stain walls
Soy Wax
Soy waxes come from soybean oil. The oil is generally extracted using a mechanical press or from using a solvent. This oil is then hydrogenated (each company has their own special process for this) which solidifies the oil into wax.
Soy Wax candle benefits:
Non-toxic (usually)
Vegan and cruelty-free (usually)
Burn longer than paraffin candles and they hold their scent longer
Biodegradable
Renewable
Burns soot-free
When buying a soy candle you're also supporting soy farmers!
While soy wax in itself is safe and non-toxic, some companies use synthetic dyes or they blend it with additives. Also, be aware of the wick material (non-cored cotton or hemp is best).
Beeswax Candles
Beeswax requires the most resources to produce, which is why these candles are generally more expensive. To give you a rough idea – for every 100 pounds of honey produced, farmers only get 1-2 pounds of beeswax.
This wax is environmentally friendly, non-toxic, and chemical-free. This wax is naturally scented and has a higher melting temperature which makes beeswax candles last longer.
However, are you likely guessed, beeswax is NOT VEGAN. So if you are living a vegan lifestyle, you'll want to stick to soy-based candles.
Beeswax candle benefits:
Non-toxic
Biodegradable
Renewable
Longer burn
Hypo-allergenic
Candle Scents
Once you review the candle ingredients you'll want to think about the best relaxing candle scents (if any). This choice comes down to personal preference. You may not like the same candle scents I do! But there are a few commonly used candle scents that are considered to be the best for meditation:
Ylang-Ylang
Ylang-ylang is a common scent used for aromatherapy and perfumes. It's an inviting floral, slightly feminine aroma that evokes a calming, relaxing, positive environment.
It can help reduce stress and depression, making it the perfect scent to add to a meditation practice working through frustration or sadness.
Some also claim Ylang Ylang can increase sexual desire which is fun 🙂
Jasmine
The sweet, floral smell of Jasmine flowers makes for another great option for meditation. Brighten your mood and let the worries melt away.
Jasmine has been used in Asia for centuries as a natural remedy for depression, anxiety, and emotional distress. These benefits make it a great addition to a meditation session focusing on calmness and relaxation.
Frankincense
Frankincense comes from the milky white sap of the boswellia sacra trees. It has a powerful, earthy, woody scent often used in perfumes and incense.
Frankincense makes for a grounding, calming experience. This oil has properties that can reduce feelings of anxiety and stimulate the immune system. Add frankincense to your morning or mid-day meditation practice focusing on self-grounding and inner calm.
Patchouli
Patchouli is a type of aromatic herb with a woody, sweet, and spicy scent. It's a common essential oil and is most widely known for its connection to hippies in the 1960s.
Breathing in patchouli essential oil has been shown to stimulate the production of serotonin and dopamine. This makes it great for easing anxiety, stress, and frustration.
While the scent alone can be overbearing, it's a great addition to blended candle scents. This candle scent pairs well with frankincense for a grounding, calming, yet awakening meditation practice.
Lavender
Lavender is the most well-known scent for easing stress and promoting relaxation. Whether it be lavender flowers, essential oil, or scented candles, you can find this herb everywhere.
It's not by mistake either. Lavender has been shown to help with insomnia. It can also ease feelings of anxiety and stress.
This flowering plant creates a sweet floral smell. It can help promote better sleep and ease anxiety. Try incorporating lavender scented candles with an evening meditation practice to wind-down before bed.
How to use Candles for Meditation
Meditation candles can be a powerful way to enhance your meditation practice. But it's not for everyone.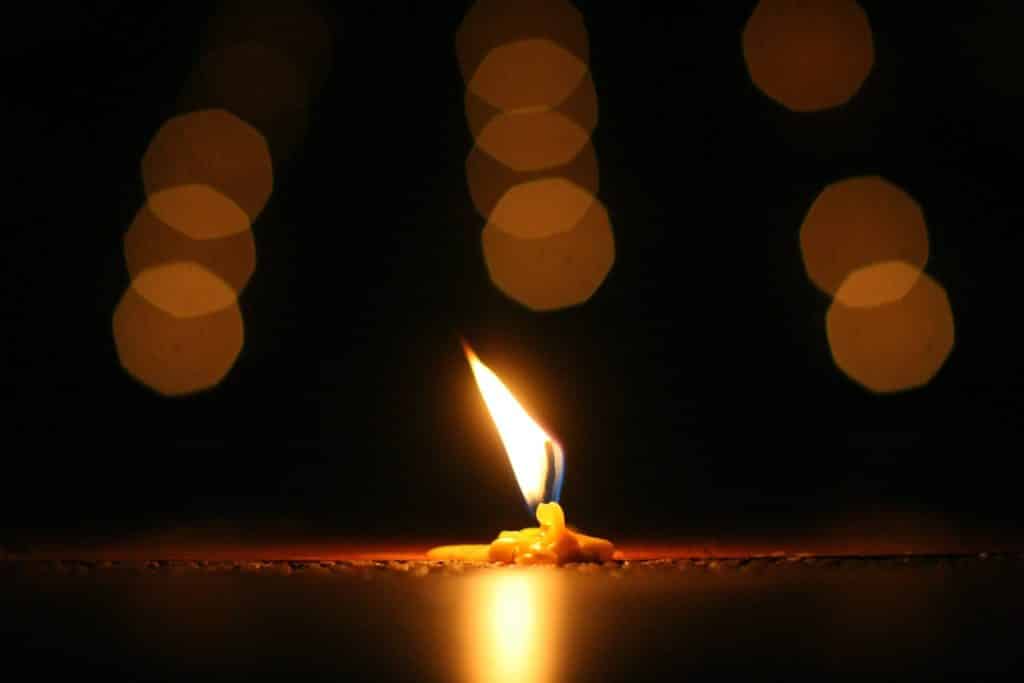 Some find that using candles for meditation is helpful to keep the mind from wandering, where others can find this practice distracting. It may work for you, but it's important to remember it's not for everyone. Don't get discouraged if it's not for you!
You may also find that using a candle is helpful for certain types of meditation.
All you're really looking to do is to create an environment that helps you focus on what you're trying to achieve. For instance, your meditation practice is focused on reducing anxiety and calming the mind, you may find that staring into a candle flame helps you get there.
On the other hand, you may find that you do better keeping your eyes closed (without a candle).
Prepare the area
Consider turning down the lights and closing the blinds in your meditation space so it's not too bright. If you have control, set the temperature something comfortable.
Position the candle at or below eye level
This is an important step that beginners often get wrong. You don't want to position the candle too far below your eye level since it will cause you to look down.
The goal is to maintain a comfortable, upright position that feels natural to you (try your best not to slouch).
Focus on the flame
Stare deeply into the flame, letting the light and the movement take over your concentration.
When first starting, your mind will want to wander. Let thoughts come and then let them pass. Return your gaze and your focus on the flame.
You might find it helpful to visualize breathing in the light from the candle. Breathe in calming, warming light and breathe out a peaceful mind.
As you keep the focus on the flame and continue your rhythmic breathing, you may notice that some of your peripheral vision will fade as you focus on the flame while nothing else in the room changes.
This is where the magic happens.
Resource you may like: Muse Brain Sensing Headband Review – for those interested in using technology to improve meditation.
Best Candles for Meditation
In Closing
Using a candle is an effective way to augment your meditation practice. It's not a requirement by any means, but it's worth experimenting with to take your practice to the next level.
The candle you choose doesn't matter all that much either. We recommend avoiding paraffin candles due to the potential health impacts. Also choosing a scented candle can help you get deeper into a meditative state, but it's not a requirement!
We invite you to give this a try! Be safe out there, always remember to blow out the candle when you're finished and keep the candle away from anything flammable nearby.