Do Weighted Blankets Work? Pros & Cons
This post may contain affiliate links. Read the full disclosure here
Interest in weighted blankets has soared from seeming obscurity, with many sleepers claiming it helps produce a better night's rest.
Notable studies are showing the benefits of sleeping with a weighted blanket, including better sleep, reduced anxiety, and a feeling of calm. But do these blankets work?
We did extensive research into whether weighted blankets have been proven to help improve sleep and manage anxiety, as well as have bought several of the top products for hands on testing. As part of the research, we also went through the reviews and pricing on amazon to find the best product for your needs.
The Weighted Blanket Pros and Cons
Weighted blankets have been gaining popularity in recent years for their calming effects, which are particularly helpful for people with anxiety, ADHD, autism, and insomnia.
Before you go out and buy one of these heavy blankets, it's important to understand the trade-offs. We took an objective look at the weighted blanket pros and cons and using one while sleeping.
Weighted blankets can help you fall asleep faster, stay asleep longer, and feel more rested in the morning. They can also help you relax and calm down.
But they may not be right for everyone. Some people get too hot in them or even feel claustrophobic. They could also be dangerous if you have certain medical conditions. The weight an adult would use wouldn't work for children, so you should find one specially made for kids.
Pros of Sleeping with a Weighted Blanket
Can improve the quality and length of sleep
May reduce anxiety
Provides a comforting, grounding experience for peaceful sleep
Can help you fall asleep faster
May reduce movement (tossing and turning) while you sleep
Cons of Sleeping with a Weighted Blanket
Makes it harder to get out of bed
Can be addicting – once you start using one, it's harder to fall asleep without one
Cost – these blankets aren't cheap, you'll likely spend close to (or over) $100 to find a quality weighted blanket
Risks for kids and small animals – weighted blankets come with warnings, but it's important to keep a close watch if children or pets are under the blanket. It's also important to pick the right weight for a children's blanket. It's also important to pick the right weight for a children's blanket
If you don't have the right blanket, you may get too hot in the summer
It may take time to adjust to sleeping with a gravity blanket
What is a Weighted Blanket?
A weighted blanket is just what it sounds like – they are heavy blankets. They generally range from 5-25 lbs and filled with plastic pellets, glass, or sand to create the extra weight. The added weight spread across the entire body can create a sense of calm and security, which can improve sleep, reduce anxiety, and stress.
Visually, you often can't the difference between a weighted and unweighted blanket—weighted blankets shouldn't look like medical equipment or therapy blankets. They come in cheerful colors and patterns, and with soft textures and waterproof fabrics.
The goal is for the blanket to weigh about 10% of your weight. Weighted blankets might also appear a bit smaller since they are designed to cover the body and not the entire bed.
How Does a Weighted Blanket Work?
Weighted blankets apply pressure to the entire body that can trigger the release of serotonin and oxytocin. These neurotransmitters can increase feelings of calm, well-being, and happiness.
These blankets are backed on a technique called deep touch pressure therapy (DTP). Firm hugs, squeezing, stroking, and swaddling all create this input which has a direct impact on the nervous system.
Weighted blankets were originally pioneered by an autism researcher named Temple Grandin, who had become interested in the use of compression and touch therapy.
Consider, for example, how hugging or holding can promote relaxation and reduce stress. At the same time, it can promote a feeling of restriction; weighted blankets aim to find the perfect balance of exploiting the body's natural relaxation response to gentle pressure without the feeling of actually being "stuck."
The benefits of compression and touch therapy, and now the use of weighted blankets, are well documented by psychologists today.
Consider this quote from Christopher Bergland in Psychology Today: "Oxytocin is a hormone directly linked to human bonding and increasing trust and loyalty."
Who Are They For?
While pioneered for use by those on the autism spectrum, the same benefits have been demonstrated in those with ADHD, anxiety disorders, insomnia, restless leg syndrome, and depression.
However, the benefits can be reaped by anyone who is looking to achieve a higher quality of sleep with improved relaxation.
What are the Best Weighted Blankets?
Now that we know the benefits, let's dive into our favorite options based on price, quality, reviews, and unique product benefits.
This weighted blanket is an excellent entry-level blanket, striking a balance between affordability and quality. The blanket is soft, with seven layers, and feels very comfortable and durable.
The construction helps achieve a better natural body temperature and contour to the user's body, and also helps prevent moving while sleeping without a feeling of constriction.
This blanket comes in several colors and patterns so you can find the perfect option to fit your style. The YnM weighted blanket also has a wide range of weights from 5lbs all the way up to 30lbs—remember, the goal is 10% of your natural body weight, but a little under or over shouldn't make a difference.
Has thousands of 5-star reviews on Amazon
Moderately priced (won't break the bank)
Several color and weight options to fit your needs
To top it off, it comes with a three-year warranty. All this at an excellent price, making the YnM weighted blanket perhaps the best bet for those just curious about a weighted blanket. YnM also offers a bamboo option for those concerned about overheating.
Read our in-depth review of the YnM Cooling weighted blanket here. It's the perfect option for warmer sleepers.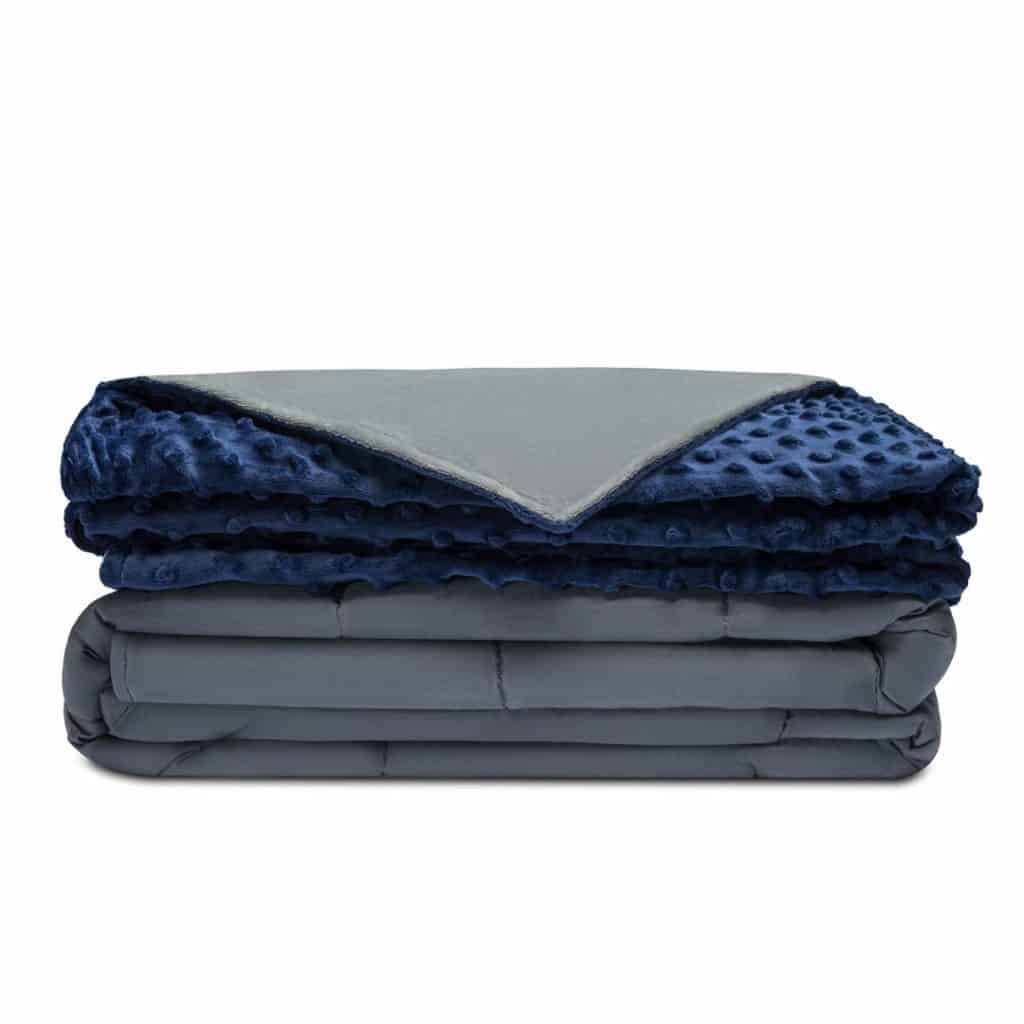 This is the best blanket for youngsters (and the heavier weights are great for adults). Made of 100% cotton and featuring a duvet cover that can be removed for a quick wash, it is airy and perfect for any time of year. Overall, this is a great option. Read out full Quility Premium Weighted blanket review here is a great option.
The 10 pound option is ideal for smaller adults or anyone who is afraid of having too much pressure while they sleep. The only downside is that this blanket is fairly expensive.
This is likely the best weighted blanket for adults who already know they'd prefer a weighted blanket and are eager to reap the benefits. Weighing in at 20 pounds, it's suitable for heavier adults as well. As a premium weighted blanket, it utilizes advanced technology in its woven design to help produce an even distribution of weight, and utilizes two layers of microfiber to help secure the weighted beads and prevent leakage.
It's notable that although the base model is 20 pounds, ZonLi does provide a variety of sizes and weights, but all tend to run on the heavier end. This is really a weighted blanket designed for those who already know they like weighted blankets. Additionally, it can get warm during the summertime, so those who prefer to stay cool might want to consider a different blanket.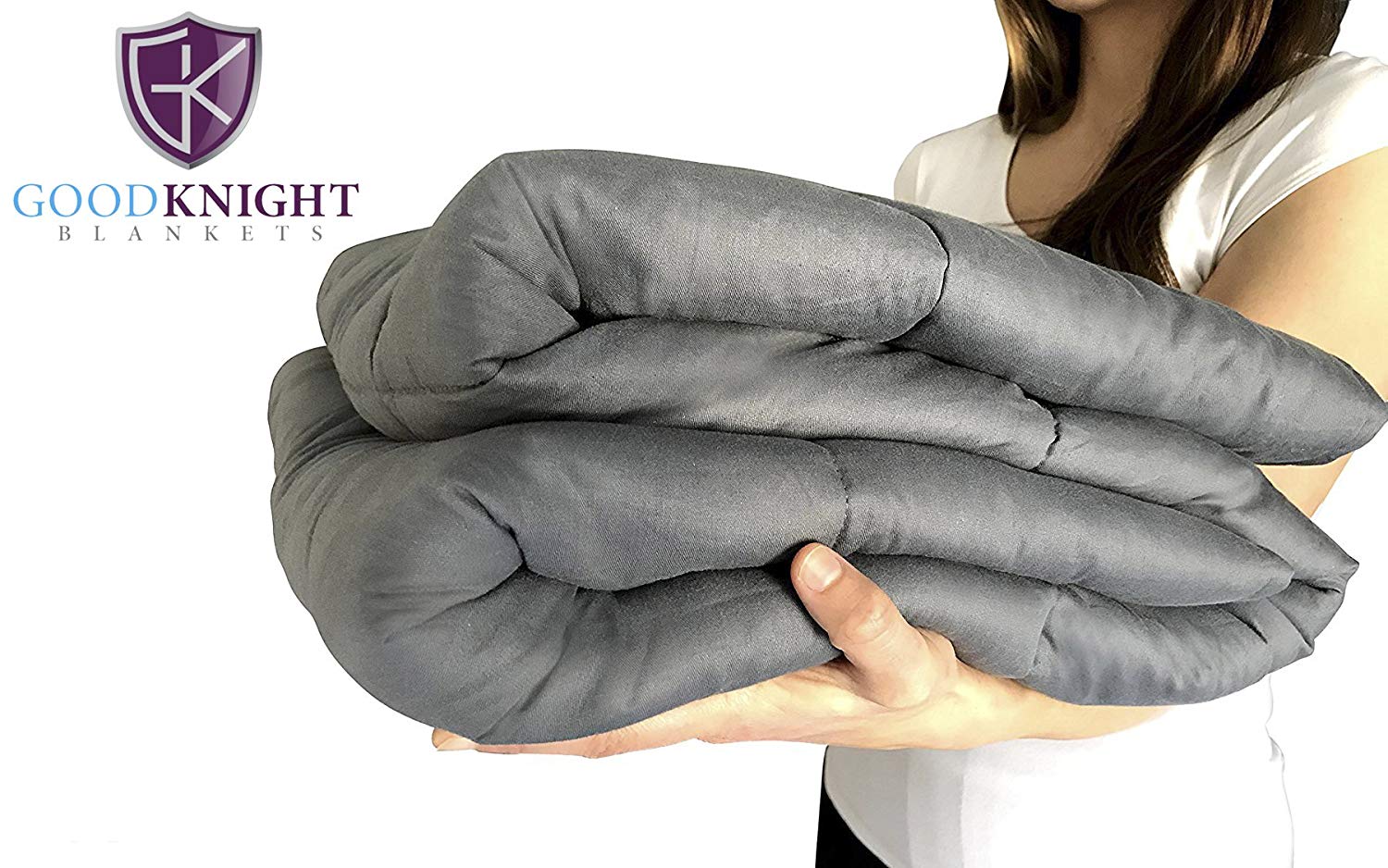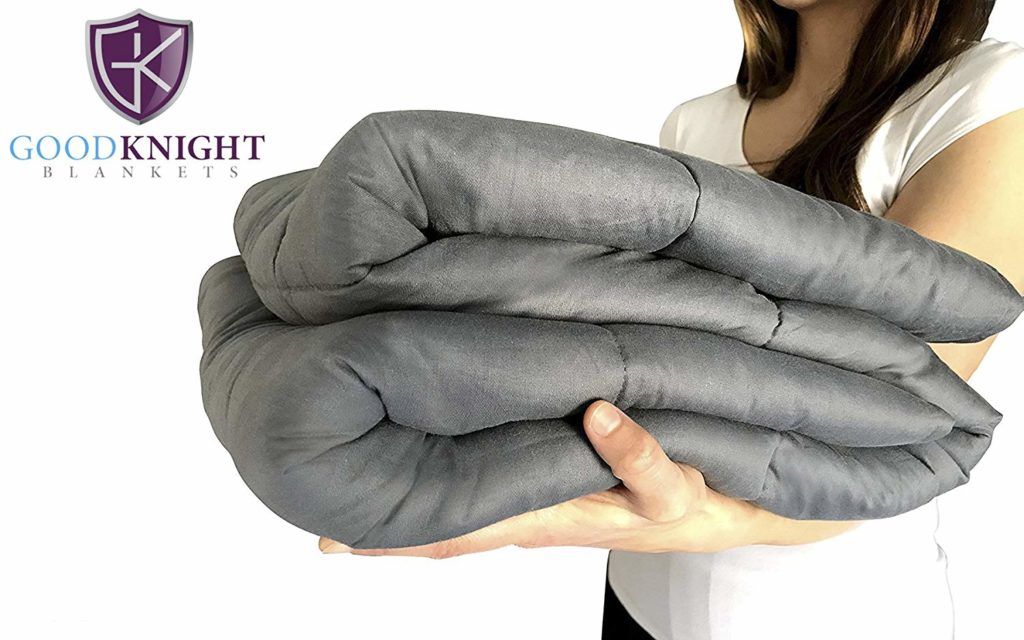 The Good Knight Weighted Blanket makes our list as it is rated 100% hypoallergenic, meaning everything from the weighted filler beads to the woven materials in the Good knight will not affect anyone's health. Aside from this, it includes all the basic advantages: 100% premium cotton, 15-pound weight, and a duvet cover (although it is unfortunately not removable).
What size weighted blanket do I need?
When choosing the size of your weighted blanket, the first factor to consider is whether you'll be using it alone or with a partner.
If the blanket is for yourself, opt for a smaller size. But if you want to share with someone else, go with a bigger size that covers the entire bed.
It's also important to understand that weighted blankets aren't as large as bed sheets or comforters. Since they don't need to be tucked in the same way sheets do, opting for a size closer to your bed size is your best bet.
Twin Size
A twin (or single) mattress is 38″ by 75″ is a good size bed for kids, once they outgrow the crib. It can also be a good choice for a guest bed or a day bed.
Most weighted blanket sizes don't directly align to bed sizes, but you can usually find the right fit. For instance, YnM has a 41″ x 60″ size blanket that makes a good fit for a twin-sized bed.
Full Size
Full size beds, sometimes called doubles, are 53″ by 75″. They are the same length as twin beds, just wider.
There are also weighted blanket options that make a great fit for full-size beds. YnM also has a 48″ x 72″ size ranging in weights 15-20lbs.
Queen Size
Queen size beds are 60″ x 80″ making them a good option for couples that don't need as much sleeping space.
The YnM queen size blanket option is 60″ x 80″ making it the perfect size. This size ranges in weights from 15 – 25lbs.
King Size
King size beds are 76″ x 80″ making them the perfect choice for couples that want extra room. The California King at 72″ x 84″ isn't quite as wide but it's slightly longer.
King size weighted blankets are also available. The largest YnM blanket is 80″ x 87″ making it a great option for king size beds.
Here are some great options for king-sized beds:
How heavy of a weighted blanket do I need?
Weighted blankets for adults are available in many different weights. The standard weight is 10% of your body weight, which means if you weigh 200 pounds, you'd need a 20-pound blanket.
This is the most common weight used in research studies. However, some people may benefit from a lighter or heavier blanket. The only way to know for sure is to try one out.
To find the best weighted blanket for you, start with a 10% blanket and try it out for a few weeks. If it feels too heavy or light, adjust the amount accordingly. If you feel like you need more help to fall asleep, then try adding other sleep aids such as white noise or blackout curtains.
There you have it. A quick rundown on how a weighted blanket can provide enormous health benefits and some of the top contenders in the industry. If you are looking for a weighted product for your toddler, check out our recommendations for a weighted vest