What's the Best Pillow for Back Sleepers with Neck Pain?
This post may contain affiliate links. Read the full disclosure here
If you suffer from neck pain, you're not alone. Millions of people report neck pain each year, all across the world. There are several steps you can take to remedy your neck pain, and one of the most effective ways is simply to change your pillow!
Here are a few of the best pillows for back sleepers with neck pain:
3. Tempur-Pedic Neck Pillow
4. The Purple Pillow
Important Factors for Choosing a Pillow for Neck Pain
1. Loft
A pillow's "loft" is its height. A loft that is too high or too low can put your head at an awkward angle in relation to your spine, causing discomfort and pain in the neck and shoulders.
You should use a pillow with a loft that keeps your head, neck, and spine all aligned. If you're unsure of how to go about purchasing a pillow with the correct loft, try an adjustable-loft pillow!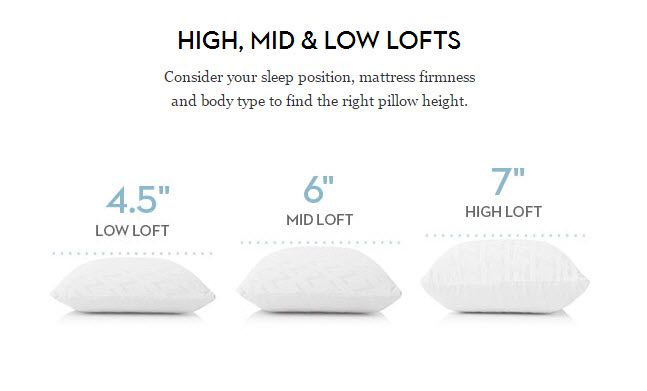 2. Firmness
The right pillow firmness varies from person-to-person. It depends on how heavy your head is, the position you sleep in, and the firmness of your mattress. A pillow that's too firm could increase the pressure on your neck, and one that's too soft won't provide adequate support!
While other factors should be considered, experts often recommend medium-firm pillows to people who sleep on their backs.
3. Shape
While this is mostly a matter of preference, a cervical pillow, also known as an orthopedic pillow, can do wonders for neck pain. These pillows are higher near the edges to support the neck and lower in the center to relax and support the head.
Cervical pillows follow the natural curvature of your head, neck, and spine. This allows your muscles to regain their length and your ligaments to relax as you rest. They can even help improve your posture!
Some people also swear by firm, rounded pillows that support the neck, and can be used alone or in addition to a normal pillow.
How Back Sleepers Can Minimize Neck Pain
Your sleeping position can either relax or tense the muscles in your neck, shoulders, and back. Luckily for back sleepers, experts claim that back and side sleeping is best for those who suffer from neck pain.
Your pillow should be supportive enough to align your head, neck, and spine into a straight line as you sleep. This will remove any pressure from this area, allowing your muscles to relax.

One method effective in mitigating neck pain for back sleepers is using two different pillows – one regular pillow, and one small, rounded pillow. A medium-loft pillow is best, as it raises your head just slightly to stay in line with your neck and spine.
Placing a round pillow right below your main pillow offers added support and helps keep your head, neck, and spine in a nice, straight line.
The Best Pillows for Back Sleepers with Neck Pain
The Eden pillow is quite possibly the best pillow available for people with neck pain. It's an adjustable-loft, medium-soft pillow with cross-cut, gel-infused memory foam and microfiber fill.
You can adjust the loft by adding or removing filling to best suit your sleeping style and support needs. It's great for back sleepers who sleep hot, as it's designed to help cool you down. Plus, it's backed by a 100-night sleep trial and a five-year warranty!
Customers seem to be satisfied with this pillow from the second they open the box. They claim it's both comfortable and supportive, immediately reducing their pain. One Amazon reviewer writes, "I suffer from extreme neck and back pain…I usually have to use more than one pillow, but last night using the EDEN pillow I only needed [one]."
This pillow is also made with easily-adjustable shredded memory foam, allowing you to customize the level of support it provides. It's very comfortable, the perfect middle ground between firm and soft.
Reviewers agree, all claiming this pillow is comfortable, soft but supportive, and effective at relieving neck and spine pain.
It even includes a vented bamboo cover to keep you cool at night. Plus, it's dust-mite-resistant for people who suffer from asthma or allergies!
The firm, contouring style of Tempur-Pedic's signature memory foam material will never lose its shape.
This particular pillow features a wavy-shape to follow your body's natural curvature and is designed to relieve pressure on your neck and spine as you sleep.
Many users note that this pillow was recommended to them by their chiropractor, and that it's the only pillow that eliminates their neck and back pain. However, multiple people also claim it has a very strong chemical smell right out of the box, so you may want to air it out before sleeping on it.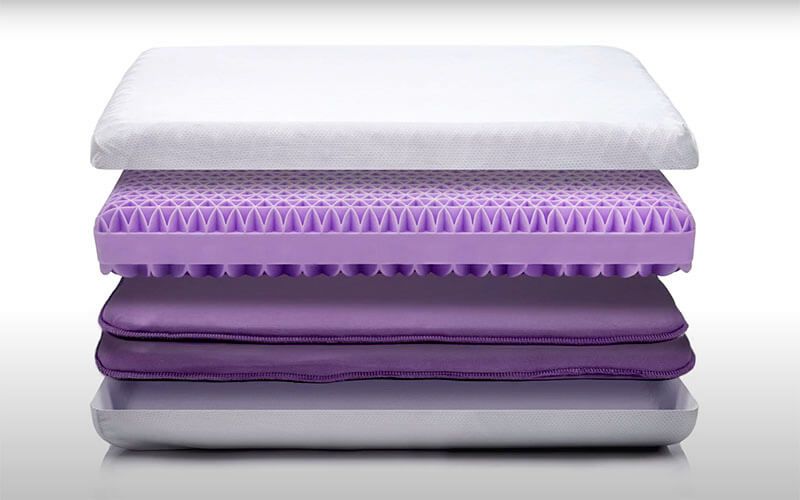 This is another pillow that was designed first and foremost to provide support to the head and neck areas.
Purple delivers on this promise. One customer who suffers from a bad neck writes, "I finally had enough of having terrible nights of sleep and ordered this pillow. I've slept with it for a few nights now, and there's been a world of difference already…No more waking up with tingling fingers. No more tossing and turning."
The loft is adjustable, it's temperature-neutral, and it allows for passive airflow. This pillow maintains its shape and will deliver consistent comfort and neck pain relief. Like the Tempur-Pedic pillow, however, users do note a strong chemical smell that needs to be aired out before use.
Best Round Support Pillow
Try the Cervical Bolster pillow for additional support cradling your neck and relieving the pressure on your back and spine. It's a rounded pillow, made with a 4" diameter of firm memory foam, that can be used with or without a regular pillow!
Customers seem satisfied with this support pillow, noting its comfortability and versatility. One user even claims they've "been 90% pain free since using this pillow."
Related Questions
What causes neck pain while sleeping?
When you sleep, your pillow should keep your head, neck, and top of your spine aligned.
Sleeping on your back with your head turned to the side is one of the biggest culprits of neck, shoulder, and back pain, as is using a pillow that's either too high or too low!
What are the best pillow materials to help with neck pain?
As with almost everything, the best pillow material to get for neck pain depends on your personal preferences and needs. The ideal material will be firm enough to hold your head at the right angle, but soft enough to alleviate any pressure you're feeling.
Some materials that meet these criteria include:
It contours in response to pressure, creating a supportive cradle around your head and neck. On the downside, memory foam can easily trap heat.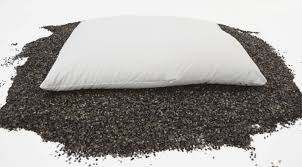 Many people have found that buckwheat-filled pillows provide great support to the head and neck. This material is also naturally resistant to allergens and environmentally-friendly! However, it tends to be expensive and is not as soft as traditional pillow materials.
Latex is another popular pillow material for people experiencing neck pain, because it has a buoyant feel to it that holds the neck in place and is very breathable. But, this is another expensive option, and pillows made from latex are not usually adjustable.
Like memory foam, polyfoam also typically offers contouring, but at a quicker response time. This material is also usually more affordable and lightweight, but will need to be replaced more often.
Bottom Line
Even though millions of people suffer from neck pain due to their sleeping habits, neck pain is not something you have to learn to live with! If you're a back sleeper with neck pain, the solution could be as simple as switching to a more supportive pillow.