Best Meditation Cushions For Back Pain: Reviewing Our Top 5 Picks
This post may contain affiliate links. Read the full disclosure here
Meditation is a key part of many spiritual practices. But if you have back pain or find that you're uncomfortable when sitting in traditional meditation positions for a long period of time, you may not be sure what to do. How can you relax, stay comfortable and take care of your back and joints while meditating?
The answer is simple – invest in a high-quality meditation cushion or chair for back pain. Rather than sitting directly on the floor, you can sit on a cushion and get additional support that will help keep your spine in alignment, and ensure you can focus on meditating without discomfort.
Meditation benches are also a great option if you prefer kneeling instead of sitting.
In this article, we'll be looking at some basic information about how to pick out the right meditation cushion for back pain, and we'll give you some tips on proper posture while sitting on a meditation cushion. Finally, we'll discuss our top 5 meditation cushions with back support.
Best Meditation Cushions For Back Pain
Top 5 Meditation Cushions for Back Pain
Looking for the best meditation cushions for back pain? Here are our top picks. Read on, and see if one of these products is the right option for your needs.
If you have back pain but prefer a cross-legged meditation position like the lotus position, this product from Hugger Mugger is a great choice. It rests under your butt and thighs, but still allows you to bring your feet close together for a cross-legged position. It's filled with buckwheat hulls, and a zipper in the rear allows you to remove some of the padding if you'd like to adjust the height of the cushion for your comfort.
Pros
Adjustable height
Lightweight, minimalistic design
Great for those who want to sit cross-legged
Cons
Lacks an inner lining
All of the filling must be removed to launder the cover
No back support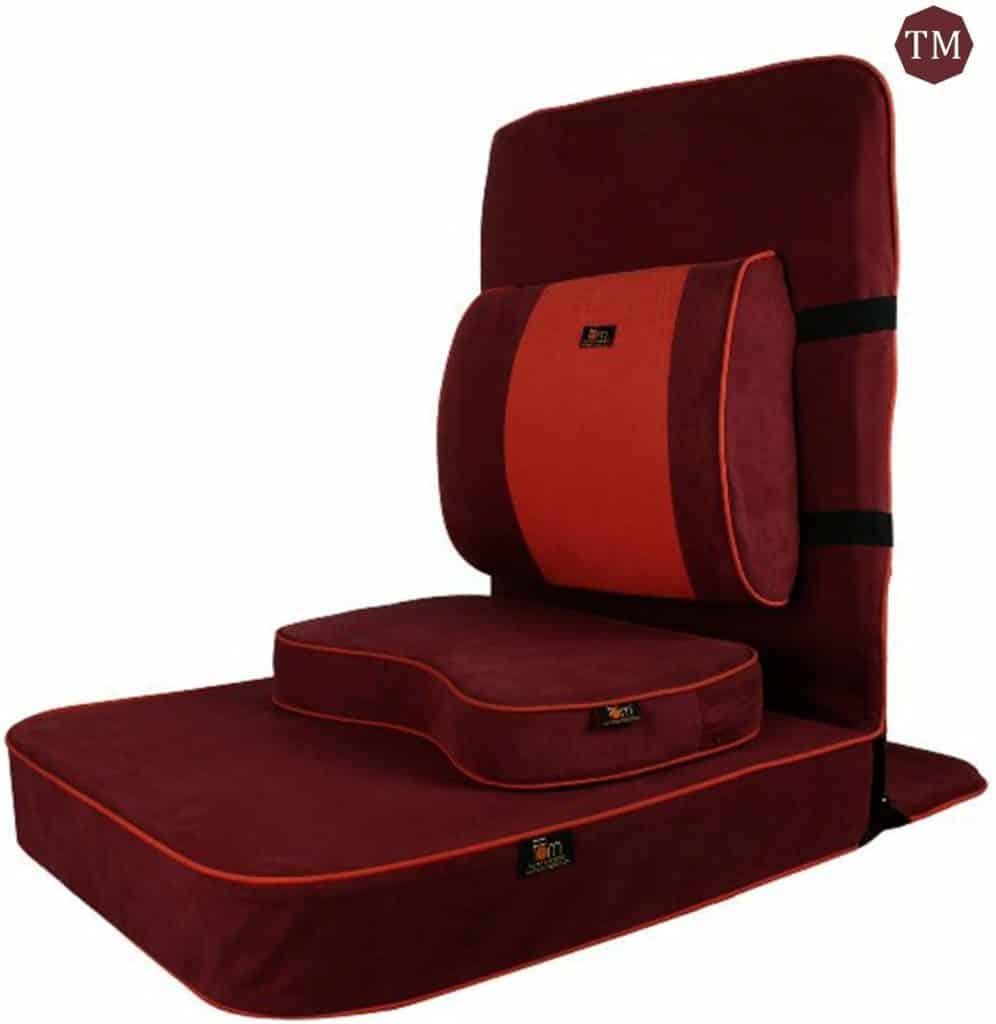 This meditation and yoga chair is an excellent choice if you have a lot of back pain and spinal flexibility issues. It includes a lumbar support which helps maintain the natural curve of your spine. It also includes a meditation block, which helps support your feet if you are not flexible enough to plant them directly on the ground. In addition, both cushions are removable to let you adjust your level of support.
Pros
Customizable levels of support
Back support with lumbar cushion keeps your spine in alignment
Foldable, comes with a complimentary storage bag
Cons
Rear backrest is not especially stiff and tends to lean back slightly
Not large enough for users over 6' 2" in height
Quite expensive compared to other options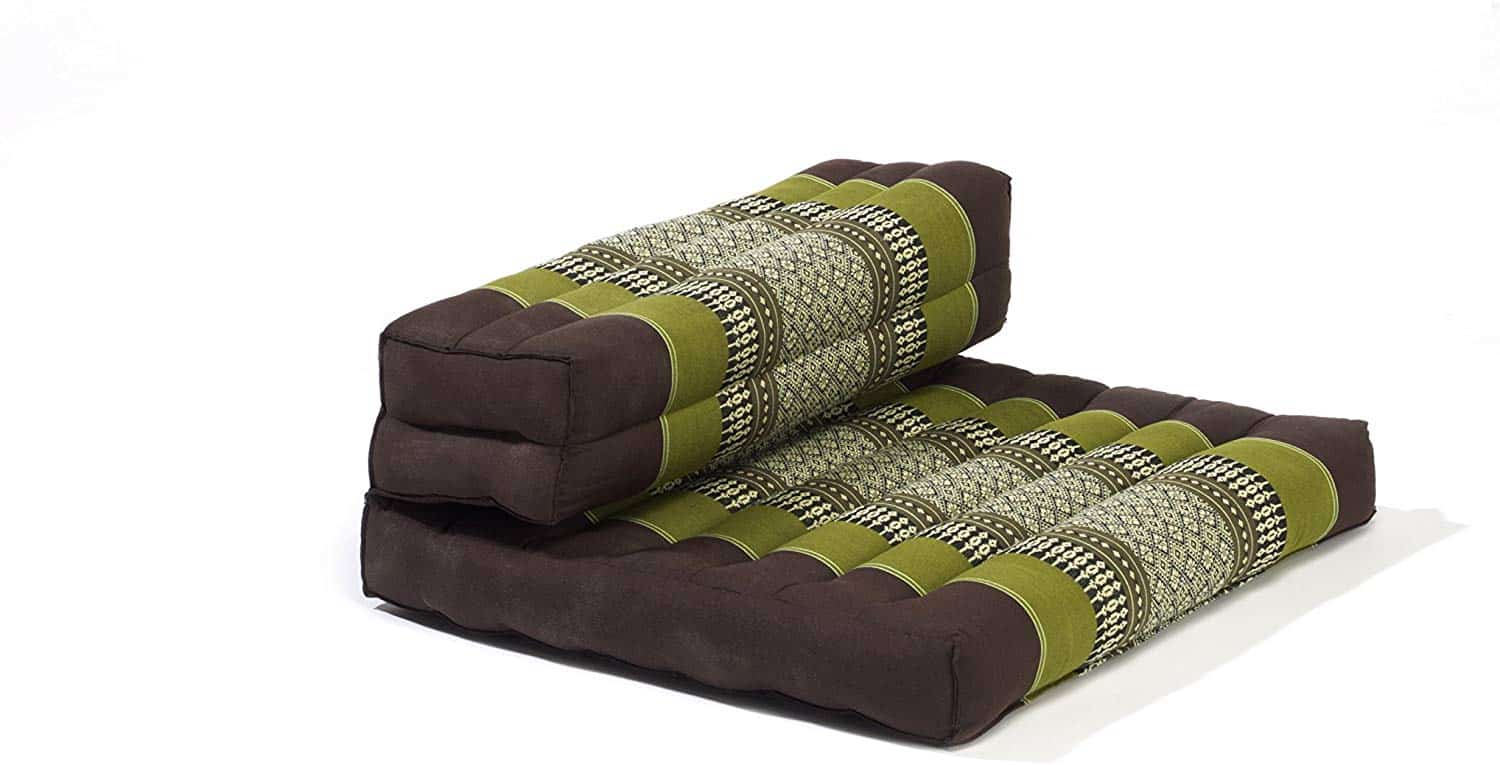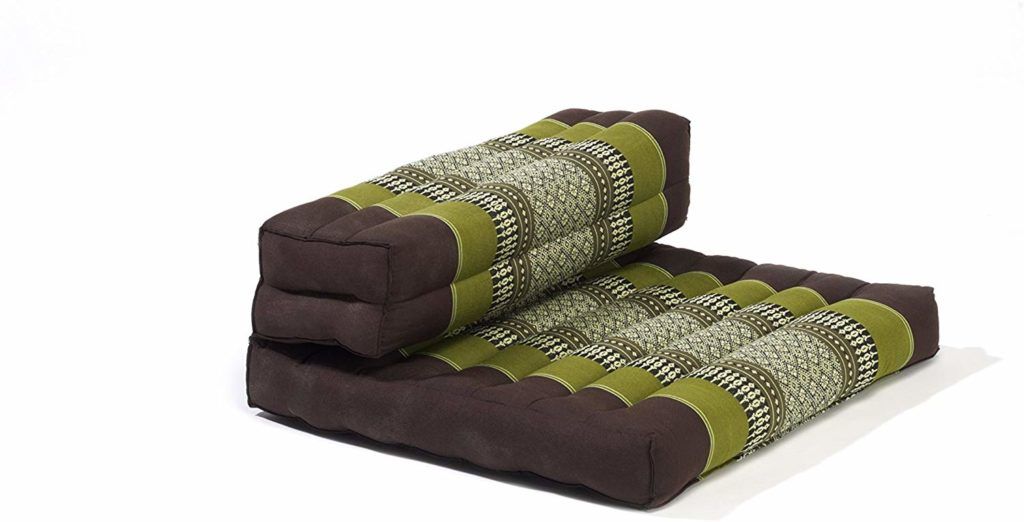 This product from My Zen includes a raised rear cushion that lets you elevate your hips and keep your spine in alignment while sitting. This ideal if you have tight hips and suffer from issues like numbness while sitting cross-legged for a long period of time. It's available in a wide variety of traditional Thai-inspired patterns, and is filled with a soft, plush filling that will keep you feeling comfortable throughout your meditation session.
Pros
Made of 100% organic materials
Available in a wide variety of patterns
Very affordable
Cons
Some stitches may come loose with repeated use
Does not fold for storage
Cover is not removable for laundering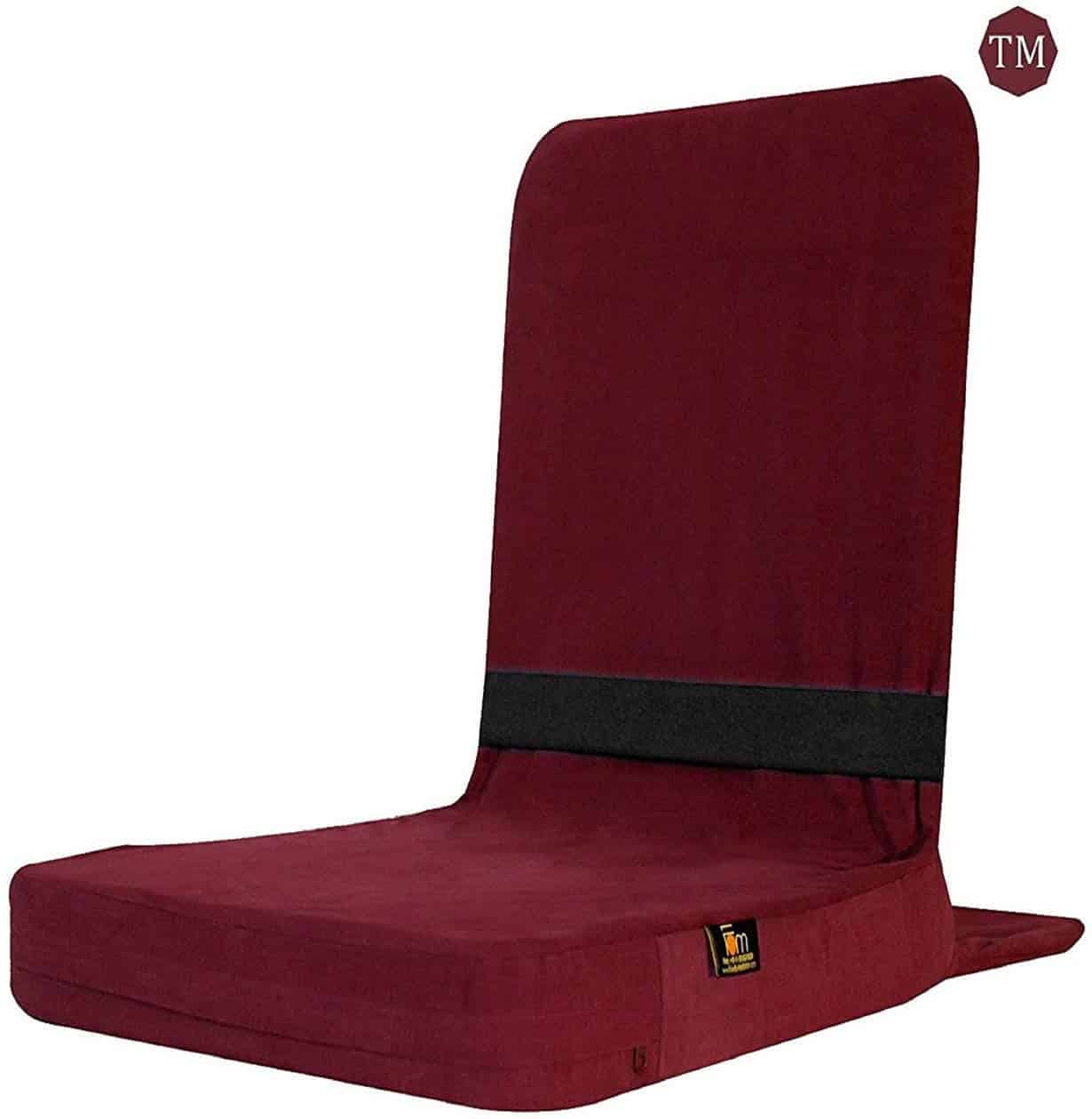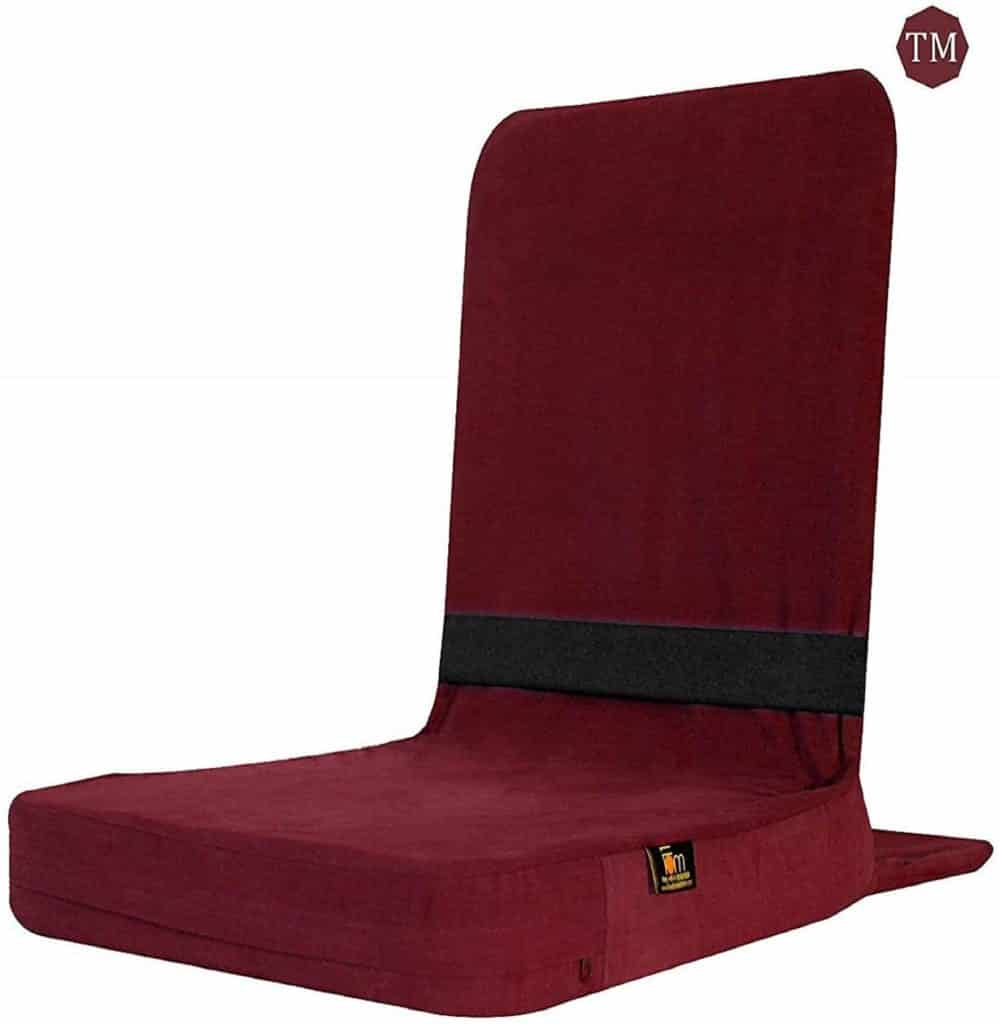 If you want a minimalist meditation chair that provides back support without too much padding, the Back Jack Meditation and Yoga Chair from Friends of Meditation is a great choice. It has a plush cushion and a thin backrest, as well as a rear bolster that prevents the chair from sliding. It's extremely lightweight and portable, and it can be folded and stored in the complimentary carry bag if you need to take it with you when you travel.
Pros
Made with high-density, 3-inch thick feather foam
Minimal backrest still provides plenty of support
Supports multiple sitting positions
Cons
Foam padding is relatively stiff
May be too small for users over 6' 2"
Some users report quality control issues
This chair from Friends of Meditation provides ample padding for a comfortable sitting position, as well as rectangular back support that supports your lumbar spine while meditating. It's foldable for easy transportation, and comes with a free carrying case. The comfortable 100% cotton fabric is breathable and allows you to stay comfortable in any climate, and this chair is versatile enough for both indoor and outdoor use.
Pros
Fully foldable for your convenience
Supports proper back posture with backrest
Comfortable foam seat for long meditation sessions
Cons
Smaller than other models, supports heights of up to 5' 9"
Lacks a removable cover, can only be spot cleaned
Backrest and lumbar cushion are not curved, so don't provide ideal lumbar support
Considerations When Choosing A Meditation Cushion or Chair for Back Pain
If you've never purchased a meditation cushion or chair before, you may be wondering what factors you should consider when you're trying to choose the right product for your needs. Here are a few things that we recommend you consider while shopping for a meditation cushion or chair
Level of padding
If you find that you are very uncomfortable after sitting for a prolonged meditation session, you should look for a cushion or chair with extra padding. However, if you do not have as much trouble with back pain, a cushion or chair with less padding may be a more convenient option, as it will be easier to move and store.
Ease of cleaning
Many meditation cushions and chairs are "spot clean" only. But if you are using your chair or cushion outdoors, you'll want to purchase a model with a removable, washable cover, as you're likely to get dirt, dust and other debris on your chair. For indoor use, this is not as important, though it's still nice to have.
The material the chair is made of also affects ease of cleaning. Leather and faux-leather are easy to wipe off, while materials like cotton are usually more prone to staining and picking up dirt.
Breathability
If you are in a hot climate, breathability should be a top concern when picking out the best meditation cushion for back pain. Materials like leather and faux-leather don't breathe well, while natural fibers like wool, cotton and linen are all very breathable, and are less likely to make you feel hot and sweaty.
Portability
If you are planning on traveling with your cushion or chair, or even just want to use it in multiple rooms in your home, you should look for a light, portable option. Many chairs and cushions even come with carrying cases or built-in handles, which will make them easier for you to carry.
Article you may find interesting: Best Portable Meditation Benches for Travel
Back support
If you have a lot of spinal alignment issues and back pain, a flat cushion is probably not your best option. You'll want a chair with an actual backrest and plenty of back support, as this will help you keep your spine aligned and minimize pressure on your pelvis and other areas of your body.
When you're looking at meditation cushions and chairs, keeping these factors in mind will help you choose the right model for your needs.
How To Sit On A Meditation Cushion
A meditation cushion alone is not enough to ensure that your spine is aligned properly. Yes, the padding can help, as can a back rest. But proper meditation posture is still essential for your spinal health and alignment. Here are a few tips to help you stay more comfortable when you sit on a meditation cushion.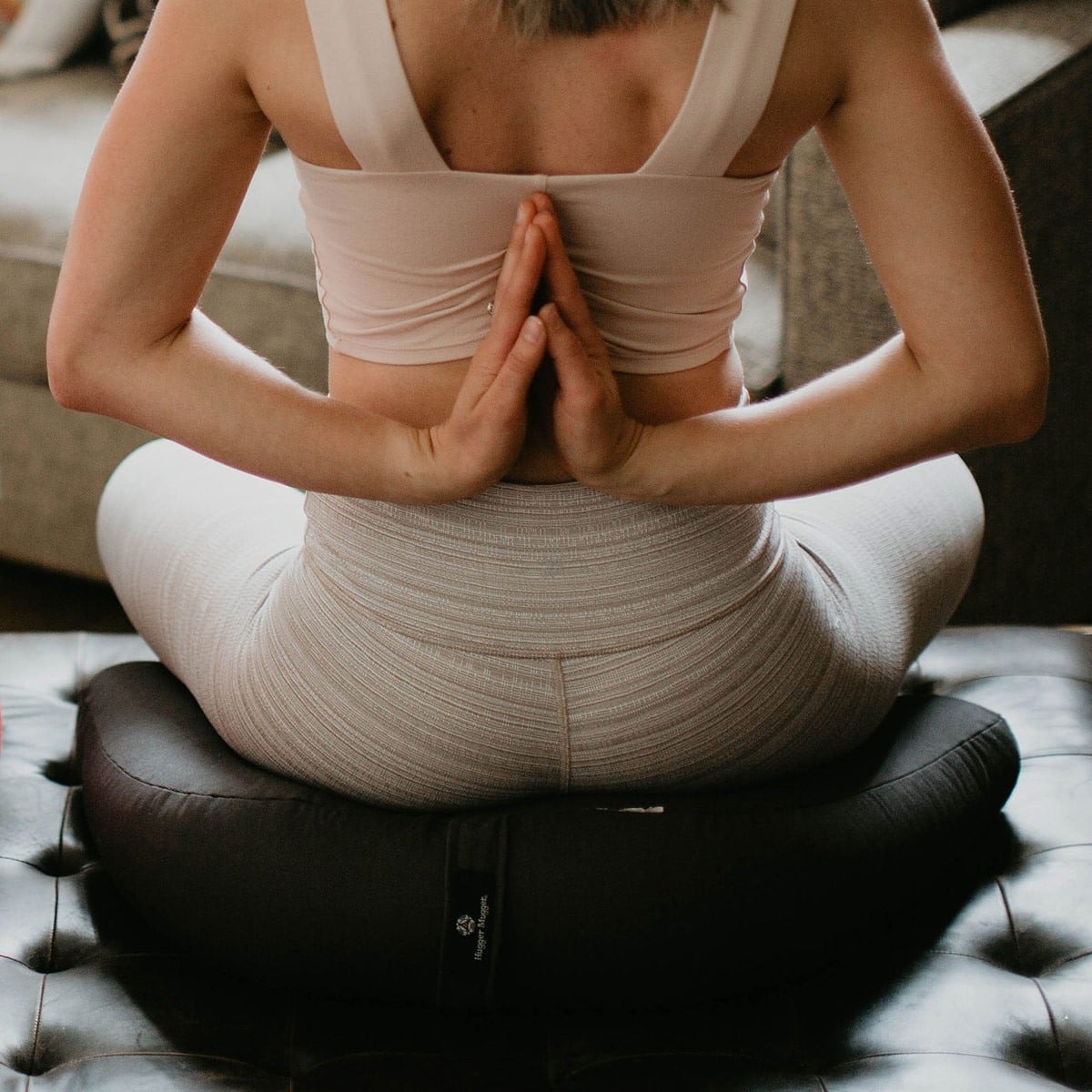 Sit up straight with a "proud" chest
Sit up as straight as you can, and imagine "stacking" your vertebrae on top of one another. Your lumbar spine should have a gentle curve forward, your shoulders should be pushed back slightly, and your chest should be pushed outward.

Imagine a "proud" chest – sticking your chest out slightly while pulling your shoulders together. This is the position you should try to maintain while sitting.
Align your chin
The position of your neck is important for your spine. Keep it in a "neutral" position parallel to the floor, not tucked upward or downward.
Keep your feet grounded
If you're using a meditation chair, you should place your feet parallel on the ground with your knees bent. If your feet cannot touch the floor due to flexibility issues, use a yoga block to support them. Keeping your feet grounded helps minimize stress on the spine
Rest and relax your hands
Place your hands in your lap, palms up. Then, rest each one where your thigh and abdomen meet. Keeping your hands here will help prevent you from "sagging" forward as you sit.
At first, you may find it hard to sit in a meditation chair or on a cushion for a long period of time. But as you practice your posture, you'll find that it gets easier – and eventually, you'll be able to sit for hours at a time with no issues.
Stay More Comfortable When Meditating With One Of These Meditation Cushions
Back pain doesn't have to stop you from meditating. If you need a little bit more support, these cushions and chairs for back pain are a great option to help you feel more comfortable and relaxed – and enjoy your spiritual practice. Take another look at our top picks now, and think about which one of these products may be right for you.
Best Meditation Cushions For Back Pain