Best Lightweight and Folding Meditation Benches for Travel
This post may contain affiliate links. Read the full disclosure here
Always on the go but looking to keep your meditation practice consistent? Then opting for a lighter-weight, foldable meditation bench is the way to go.
Meditation has a wide range of benefits from reducing stress and anxiety, to improving memory and focus. And using a meditation bench for your practice is the perfect way to keep a healthy posture and position. These nifty little benches are the perfect alternative to sitting on a meditation cushion or sitting cross-legged on the floor. Their design supports the upper body while reducing the weight on the knees, shins, and ankles.
Do I need a Travel Meditation Bench?
If you have ever had your legs or booty fall asleep during an extended meditation practice, then it's worth giving a meditation bench a try. It takes a while to get the hang of it, but once you learn how to sit on a meditation bench, it starts feeling natural.
These seats are great, but if you travel a lot, lugging around a giant bench isn't practical. If you prefer to enjoy your meditation practice at a park or at the beach, having a portable meditation bench can be useful. These portable benches make it easy to bring along in a small bag or backpack!
Maybe you don't travel, but you have in your dorm or apartment these foldable options are the perfect fit! Check out our list of the best folding meditation benches: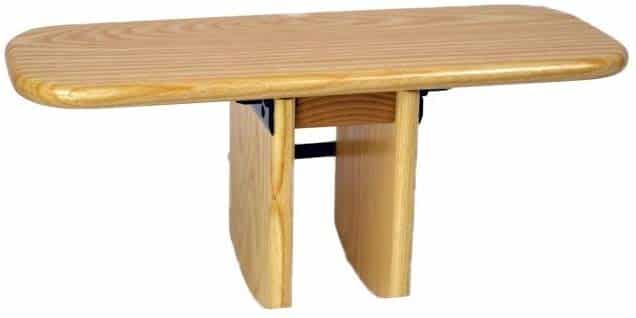 This bench is only 4lbs and is 18 x 7 x 7.2 inches (when expanded). This Pi meditation bench is made by Sage Meditations. It's only a few inches thick when folded.
It uses the Pi design with the legs in the center of the bench so you can slide your legs under the bench without any discomfort. The legs also have rounded ends to allow for limitless positions when in use.
The bench is made from "select" hardwoods with a nice lacquer finish. The colors vary from warm honey ash to natural oak color.
This beautiful bench is handmade with local cherrywood in Quebec with ergonomics in mind. It's technically not a foldable bench since the legs are removable, but it offers the same portability. The curved seat provides comfort so extra cushions aren't needed. It supports the natural curvature of the spine.
It comes in 3 different sizes and two finishes (natural and dark walnut) so you can find the perfect size for your comfort.
The legs can easily be removed to place in cotton travel back, which is included with the purchase.
This bench is 16.5 x 6.3 x 8.2 inches when expanded. The legs remove to fit nicely into the bag that comes with it.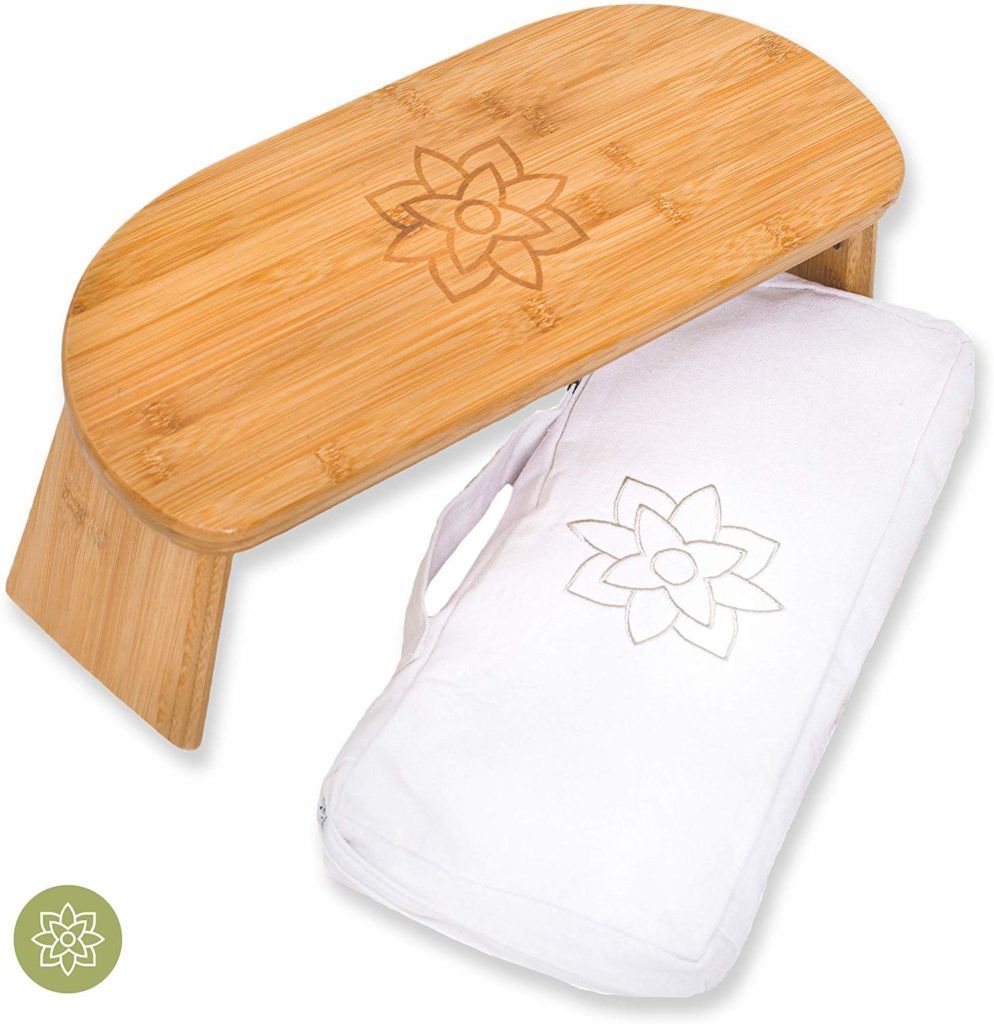 Elevate your meditation practice with this travel-friendly meditation bench by Mindful and Modern. It's made from sustainable, bamboo (which doesn't contribute to deforestation). It has a beautiful lotus design embossed on the top of the bench.
It's brass hinges allow the legs to fold flat for easy transport and storage. It also comes with a washable travel case.
This bench is 17″' x 7.5′" x 7.5″ and weighs just under 5lbs. Like most benches, it has a slight angle to provide enough space for your legs and also helps keep your spine in alignment.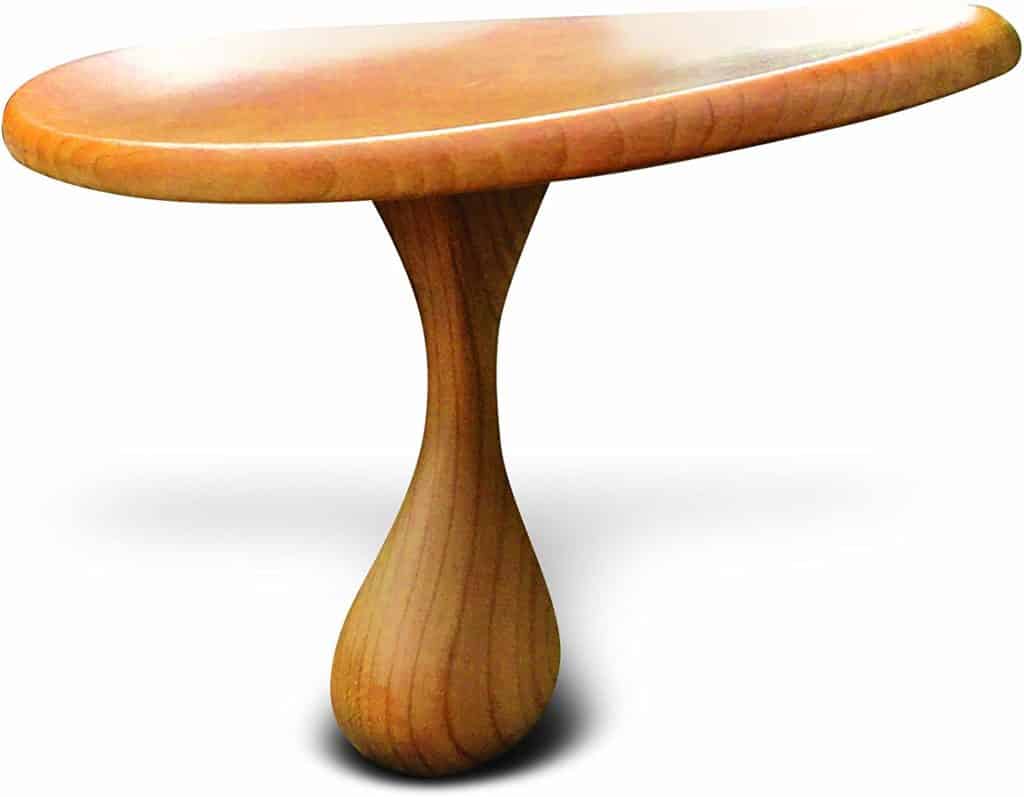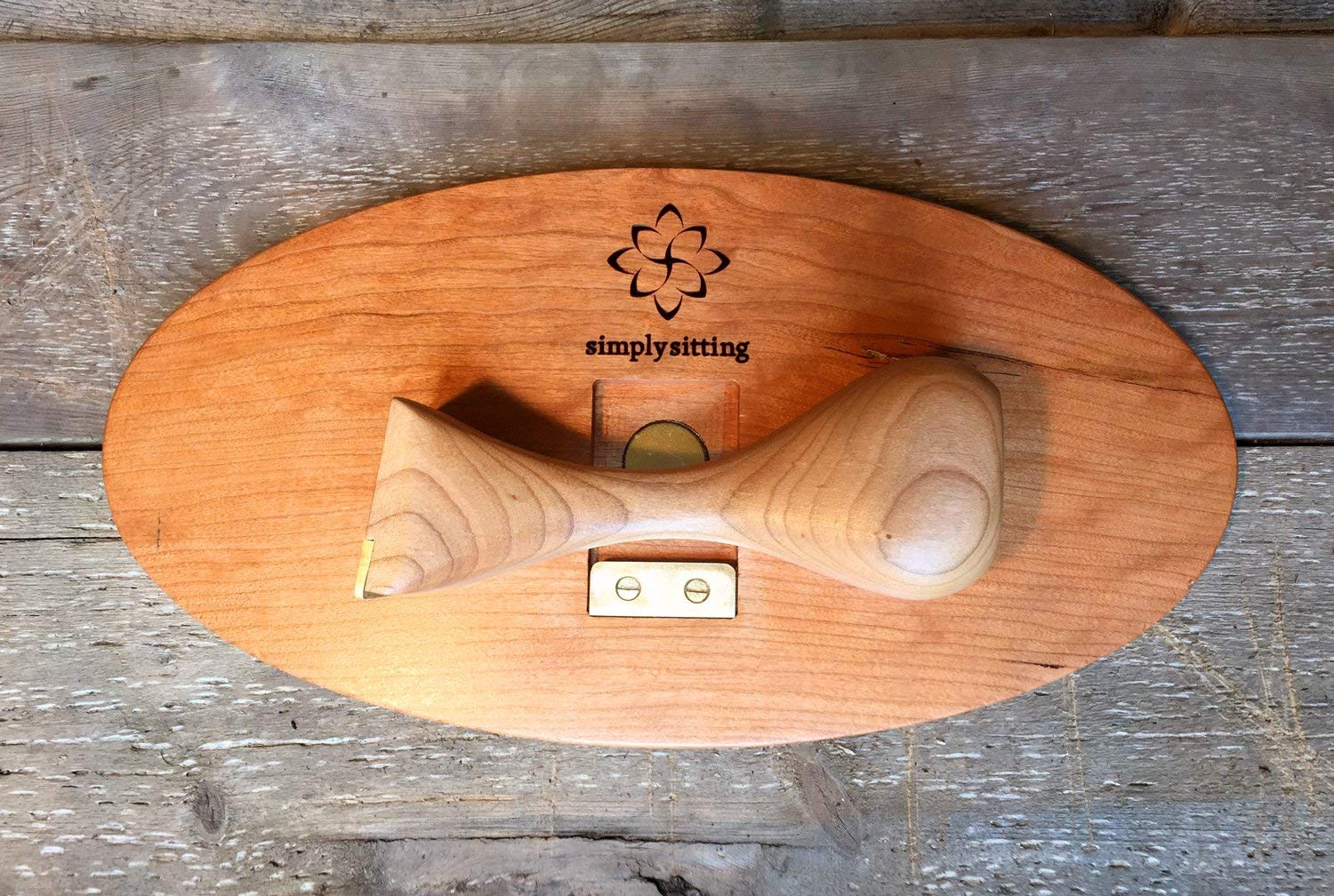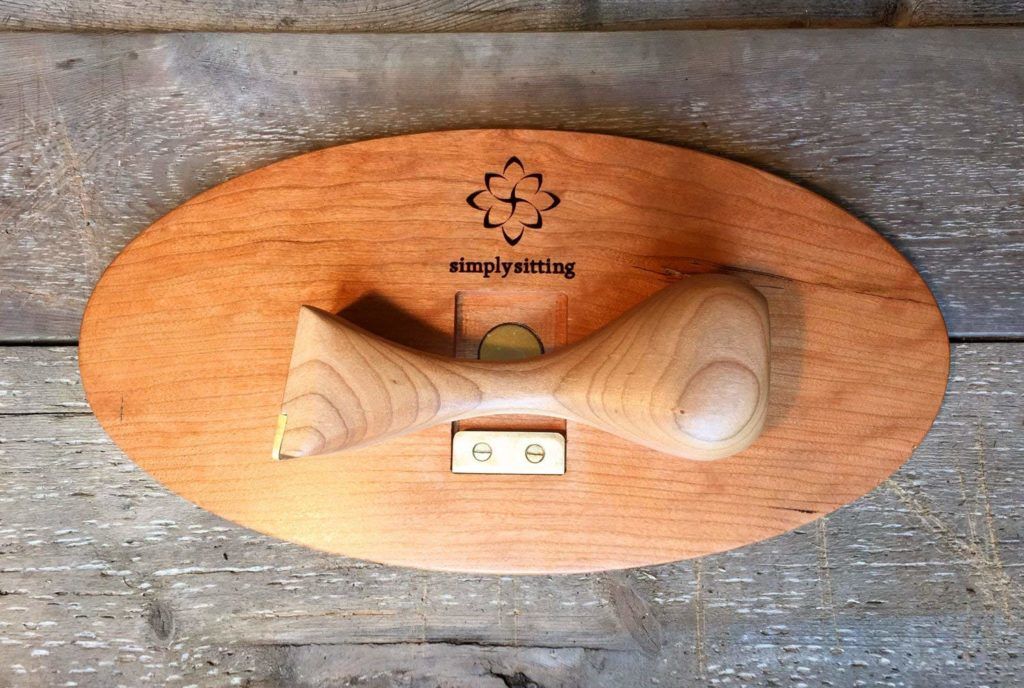 The simplysitting seat stands out from the rest with its unique single leg-design. This makes for a great travel option since it's light and takes up little space.
They call it their patented sweet seat. The simplysitting bench promotes proper posture and balance. We love this bench for its unique beautiful design and great portability.
This bench is 100% sustainable American Cherry heartwood with one removable leg for portability. It's 14″ x 7″ x 7″ and only weighs 1.25lbs! Hard to believe but this seat is smaller and lighter than a notebook.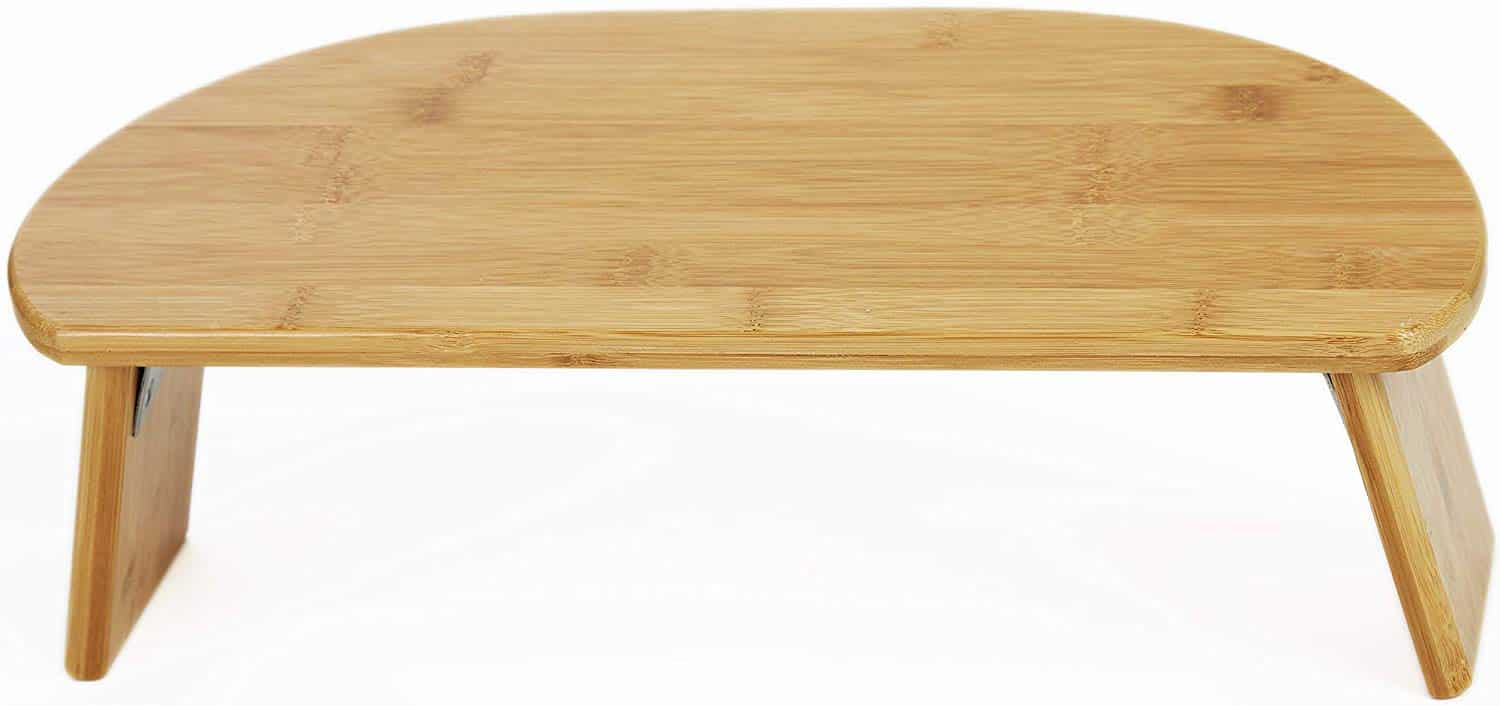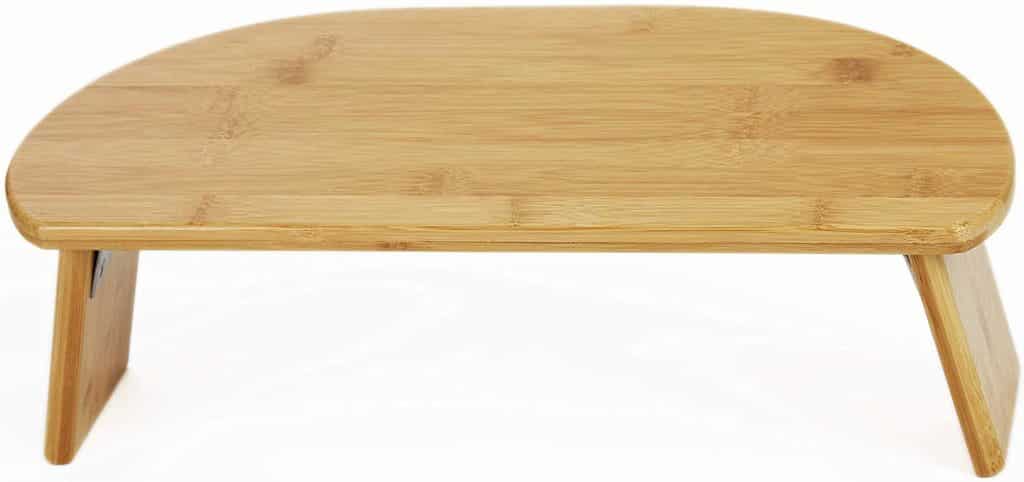 This budget-friendly bench offers portability with folding legs and ergonomic design. It's 100% sustainable bamboo. You can easily store in a suitcase, backpack or bag.
The Green Eos kneeling bench keeps you body in proper alignment in the Seiza position for extended periods.
Each bench goes through testing and inspection to ensure it meets Green Eos' high-quality standards. This seat is 17.5″ x 7.5″ x 7.5″ and weighs 3.1 lbs.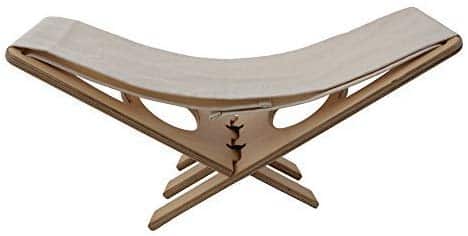 This bench is one of a kind. It's hard to tell how it operates based on the first glance, but this meditation bench uses fabric and foldable wood legs to create a lightweight, portable bench.
You can adjust the tightness of the fabric (with velcro) to simulate different heights and it also comes in two sizes. The smaller version adjusts from 5″ – 9.5″ in height and the larger version adjusts to 6″ – 11″. But if you're buying this bench for travel, we recommend going with the smaller version (The Nomad 1).
When folded, the smaller size is less than two inches thick – 17″ x 6.25″ x 1.5″.
This bench doesn't have an official weight limit, but it claims to work for people up to 220 lbs.
In Closing
Fortunately, there are a handful of great options to choose from if you looking for a portable meditation bench. These folding seats can greatly enhance your meditation practice without the need for a giant heavy table to takes up too much space.
You can fold up and keep these benches under-the-bed or in the closet if you fancy, but with some of these sleek designs, you may just want to keep the bench out on display!