Best Ashwagandha Supplement Brand: 2020 Review
This post may contain affiliate links. Read the full disclosure here
I'm huge a fan of Ashwagandha. I've been taking daily for the past 3 years and I've learned a lot about the herb. I love its ability to fight stress, anxiety, and improve focus.
Whether you're considering taking Ashwagandha for stress, better sleep, or one of the other (many) benefits, it can be overwhelming to find the best supplement. There are labels such as "extract" and "root powder" that aren't really explained in the buying process and not all of them are created equal.
Our Favorite Ashwagandha Brands
We're big fans of Ashwagandha extracts based on their potency and convenience to consume so we kept most of our focus there. However, we included the best Ashwagandha root powder too. Keep reading to learn about the difference between extract and root powder.
After testing several supplements and spending countless hours researching brands, these are brands we consider to be the best Ashwagandha supplements.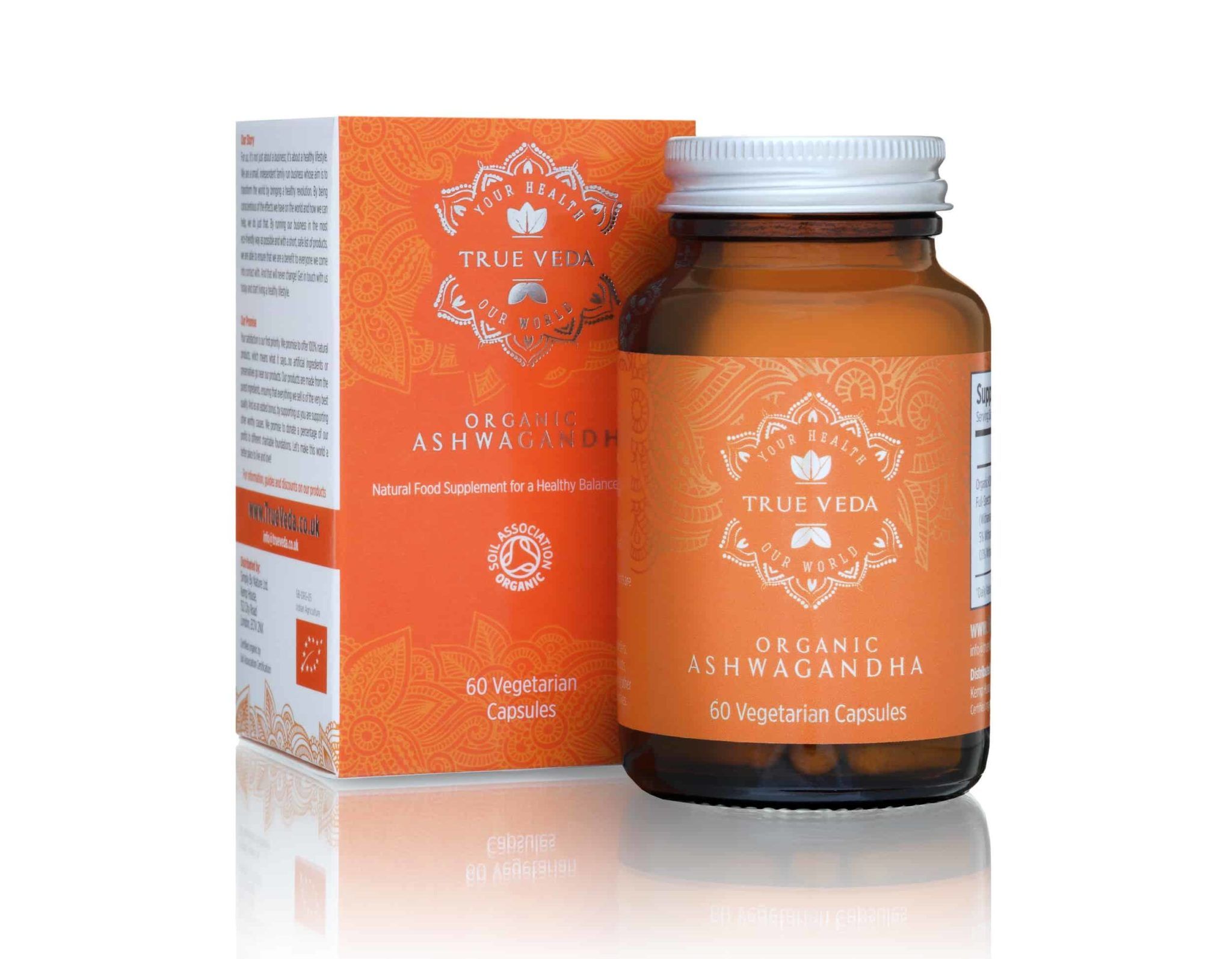 This is our favorite Ashwagandha supplement and is the top purchased brand by our readers. This supplement has it all! It's organic, uses KSM-66 extract, 100% vegan, and is GMP certified.
True Veda Ashwagandha has hundreds of valid 5-star reviews on Amazon with most raving about the product and results. Since they use tested-and-proven KSM-66 extract you know it's legit and then True Veda's processing and handling adds even more trust to the product.
This is a great Ashwagandha extract option that uses tested and trusted ingredients that are backed by science. True Veda is a relatively new brand (founded in 2015) but it quickly built a reputation for producing high-quality, effective products.
Pros:
Organic
Vegan
No artificial ingredients or preservatives
3rd-party lab-tested
Easy to swallow capsules
100% money-back promise
Cons:
More expensive than some other options available
Uses the same extract as other KSM-66 supplements. If you've tried KSM-66 and it didn't work for you, then this product it's going to be any different.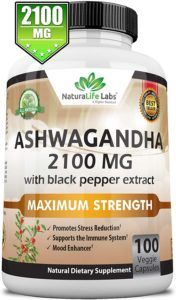 The NaturaLife Labs Ashwagandha supplement has the highest root and extract amount on the market. It's important to note this supplement combines both the root powder 1050 mg and Ashwagandha extract 1050 mg with 2.5% withanolides.
This supplement has thousands of positive reviews on Amazon and has received badges such as "Amazon Choice" and "#1 Best Seller". This is a fantastic alternative even though it doesn't use the KSM-66 extract.
Pros
Combines root powder and extract in a single supplement
Uses black pepper to increase the bioavailability
No fillers or binders
Organic
Vegan
3rd-party lab-tested
100% money-back guarantee
Cons
Ashwagandha extract is less potent than popular forms such as KSM-66 or Sensoril.
The suggested serving size is 3 capsules which can be a lot to consume at a time.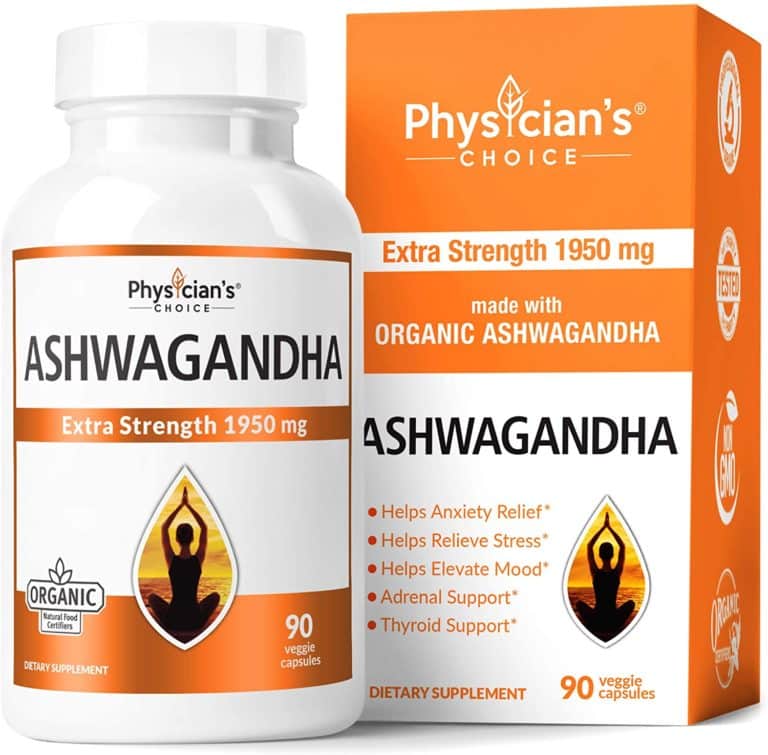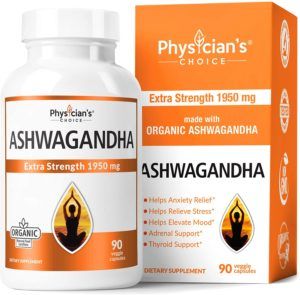 This product provides the straight-up Ashwagandha root powder. It's not going to have the same potency as supplements using Ashwagandha extracts but it will give you 1950 mg of natural form Ashwagandha per serving.
Customers on Amazon love this product. It has thousands of five-star reviews and the product is priced well.
Pros
Uses black pepper to increase the bioavailability
Organic
All-natural
3rd-party tested for purity
Cons
Ashwagandha root powder doesn't have the same potency as popular extracts available.
The suggested serving size is 3 capsules which can be a lot to consume at a time.
What is Ashwagandha?
In case you don't already know, Ashwagandha is a powerful adaptogenic herb that's loved for its wide range of benefits. Whether you're stressed, have high anxiety or you're looking to improve cognitive performance, Ashwagandha is worth a try. However, when scouring the various brands, extracts, and ingredient combinations it can be overwhelming to find the perfect option.
Ashwagandha Benefits
Ashwagandha is a favored adaptogen for its wide range of benefits. From strength and stamina to its ability to help reduce stress and anxiety, it's an amazing plant.
We came obsessed with Ashwagandha based on its ability to bring the body back to a state of balance. It can help reduce anxiety levels without some of the negative side effects that come with prescription medications. All the other amazing benefits are icing on the cake for us!
Here are some of the more well-known Ashwagandha benefits.
Reduces stress & anxiety
Improves thyroid function
Reduce blood sugar levels
Anti-cancer properties
Reduce depression
Increase testosterone and fertility in men
Boosts immune system
Improved memory and brain function
The amount of science and clinical backing for the different benefits above varies so it's important to take these with a grain of salt. It goes without saying but just because this herb drove these benefits in smaller clinical studies it doesn't mean it will have the same impact on everyone.
Ashwagandha Side Effects
Ashwagandha is considered to be well tolerated for those who take the typical dose. Some of the most common side effects are sleepiness, headache, and upset stomach. In rare cases, some have also experienced negative allergic reactions to Ashwagandha.
Ashwagandha may increase thyroid hormone levels. So those with preexisting issues or taking medication should take special precautions (talk to your doctor) before taking Ashwagandha.
Ashwagandha Extract vs. Root Powder
As you start to compare different Ashwagandha supplements, one of the first things you'll notice is that some are from Ashwagandha Root and others use an extract.
The root powder is exactly what it sounds like, dried roots from the Ashwagandha plant ground up into a powder. The benefit here is that you're getting the plant in its true form. You're consuming it all so you get a balanced product, as nature intended. However, you'll need to consume a greater volume to get the same therapeutic effects.
Ashwagandha extracts are condensed versions of the Ashwagandha plant. Extracts reduce the mass and extract the flavonoids that drive the desired benefits. It's a more potent form of the plant, which makes it a great option for supplements.
Extracts are common in the Ashwagandha supplement marketplace but there are only two processes that are widely-known and trusted for their scientific backing. KSM-66 and Sensoril are the leaders of the pack. Learn more about the differences of KSM-66 and Sensoril here.
Frequently Asked Ashwagandha Questions
We came across several commonly asked questions regarding finding the best Ashwagandha supplement. Here are some of the most common, please let us know if there are any others you'd like answers for!
Is black pepper needed to improve absorption?
It's unclear whether black pepper increases the effectiveness of Ashwagandha. The clinical studies that found the stress and anxiety-reducing benefits of Ashwagandha did not use black pepper, suggesting it's not needed. However, studies have also found that black pepper can help increase nutrient absorption.
One study found that taking black pepper with curcumin improved the availability of curcumin in human blood by 2,000%. I couldn't find any studies that referencing the benefits of taking black pepper with Ashwagandha, but it could help improve absorption.
Is it 3rd-party tested for purity?
This is a good sign to look for. A 3rd-party conducted by an outside laboratory to review the manufacturing process and to ensure the final product complies with relevant standards for safety, quality, and ingredients.
How long does Ashwagandha take to work?
You may start noticing the benefits of taking Ashwagandha after a few days. However, most studies have found the full effects can take up to 12 weeks.
You'll likely need to take for a least a month to see any noticeable results and even longer to reach optimal results. Of course, the speed and effectiveness will depend on the dosage and your particular body.
Is it safe to take while pregnant or breastfeeding?
No, Ashwagandha is not considered to be safe to take while breastfeeding or pregnant. You'll also want to check with your doctor before taking Ashwagandha if you're taking medication or have any current health issues.
What does Ashwagandha taste like?
Ashwagandha has a bitter earthy taste making it unpleasant to consume on its own. This is one of the main benefits of Ashwagandha extracts since you can consume the daily intake in a few small capsules.
However, if you're consuming the root powder in its natural form consider mixing it with warm milk and honey.
Is Ashwagandha good for sleep?
Yes, Ashwagandha can help improve the quality of sleep. Studies have shown that it may help those struggling with insomnia and other sleep disorders. Source here.
Will Ashwagandha help with anxiety and stress?
Yes, Ashwagandha may help reduce anxiety and stress. Studies have shown its ability to reduce reported stress, anxiety after taking Ashwagandha for 4-12 weeks.
A study with 64 people who struggled with stress showed significant improvement in stress levels over 60 days. These results were from taking 300mg of high concentration extract per day. Source here.
Should I take Ashwagandha in the morning or at night?
This comes down to personal preference. I enjoy taking Ashwagandha in the morning to stay calm and focused throughout the day. However, others find it beneficial to take right before bed.
Frankly, you'll need to give it a try to find what works best for you.
What are withanolides?
Withanolides are thought to drive Ashwagandha's wide range of health benefits. In other words, withanolides are the active ingredient in Ashwagandha. This is important to understand since different Ashwagandha extracts often state the percent of withanolides.
When an extract has as higher withanolide percent, it's more potent. With all other factors being similar, you'll need to consumes twice as much of a supplement that has 2.5% withanolides compared to one with 5%. One of the reasons we love the KSM-66 extract is that it has 5% withanolides, nearly double the average extract on the market.
Is It Certified Organic?
This doesn't have to be a hard requirement for every supplement you take but organic supplements tend to be better for you and the environment. It means they are free of insecticides, pesticides, and other toxic ingredients.